Ray Lewis' Pastor Talks Linebacker's Christian Witness on the Football Field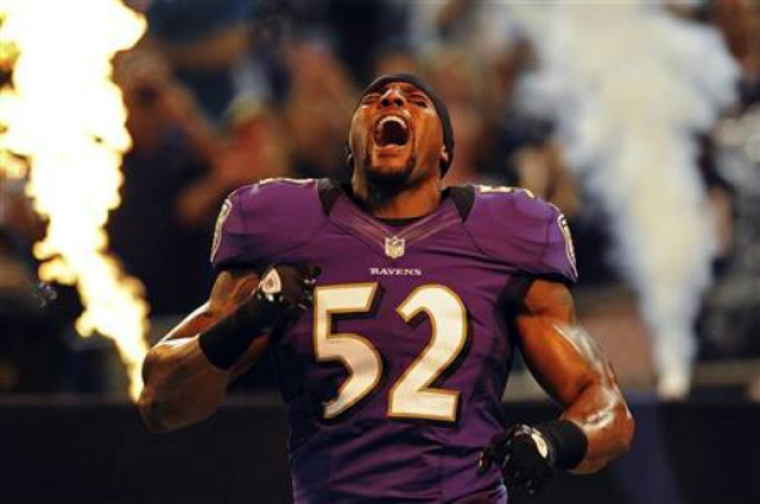 Baltimore Ravens linebacker and committed Christian Ray Lewis has been able to reach more people in one game than many preachers have been able to their entire lives, his pastor and close friend, Dr. Jamal Bryant of the Empowerment Temple AME Church in Baltimore, Md., told The Christian Post.
Although Lewis' Christian faith may be news to some, he has always been religious. Relatives who recently spoke with Yahoo! Sports reporter Eric Adelson said Lewis' grandmother, considered the "backbone" of his family, had always encouraged the 37-year-old Super Bowl XXXV MVP as a young boy to read the Bible and attend church.
"Lewis is known now for his preaching, but he was a junior deacon as a child. He could recite verse at age 4," Adelson learned from Lewis' family.
Lewis, whom Pastor Bryant described as an inspirational and motivational speaker, often talks blatantly about his confidence in God directing his path, a view he's been sharing now more than ever since announcing his retirement earlier this season.
"I'll tell anybody. One thing about God's will, you can never see God's will before it happens," he told a roomful of reporters after a game this month. "You can only see at the end of it. For His will to happen this way, I could never ask for anything else."
In an interview after the Ravens dominated the Denver Broncos in a historic NFL match-up to secure their spot in New Orleans, the 13-time Pro Bowl player was asked what led him to believe that he and his teammates could win.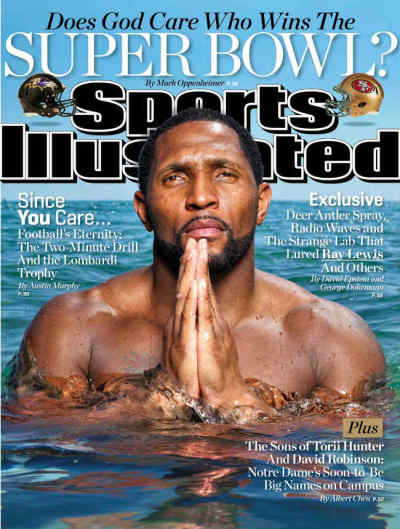 "No weapon formed shall prosper. No weapon!" Lewis said emotionally, quoting Isaiah 54:17. "God is amazing, and when you believe in Him ... man believes in the possible, God believes in the impossible."
At other times, Lewis has collapsed on the sidelines in prayer, grown extremely emotional during the singing of the National Anthem, and famously pulled off his jersey to reveal a black T-shirt imprinted with "Psalm 91."
On public reaction to Lewis' expressions of faith, Pastor Bryant called it a "wonderful witness and testimony."
"To have that kind of opportunity and that kind of stage, which many would never acknowledge, is that gesture was broadcast to more people than Billy Graham ever preached to or Bishop [T.D.] Jakes has ever seen in one setting," he added, noting that "millions of people were able to hear [Lewis] bear witness about what God has done."
While Lewis has won supporters through his expressions of faith and has earned the respect of his peers on the field, others have had trouble looking past his involvement in a double murder case from a Super Bowl party he attended in Atlanta in 2000. Although Lewis ended up pleading guilty to a misdemeanor charge of obstruction of justice, some have wondered if the linebacker might have gotten away with murder. That case has forever been a blemish on his character in the eyes of some, while those closest to him insist he had nothing to do with the crime. Lewis' recent outbursts of emotion and expressions of faith have also made his detractors more skeptical, with what some might describe as his antics landing him a spoof on live television sketch comedy show "Saturday Night Live," and a second faith-inspired cover story for Sports Illustrated magazine.
Meanwhile, Bryant noted the public's selective memory concerning one of America's most celebrated figures.
"While just a week ago everyone marveled at the life of Martin King Jr., what many people don't recall and recollect is that while he was yet alive he was vilified, lived under constant duress, and threats, stress ...," said Bryant.
"I think that after time that the real life and legacy and evolution of Ray Lewis will be appreciated," he added.
While Lewis has been a member of Empowerment Temple and a friend of Bryant's for about seven years, the linebacker has partnered with the church in community outreach efforts, and has been very active in charitable work throughout his career. His Ray Lewis 52 Foundation, founded several years ago, helps to provide disadvantaged youth with personal and economic assistance.
Now that the 17-year veteran Baltimore Raven is hanging up his jersey to be more present in his own children's lives, many have been taking notice of his accomplishments and honoring him for his work.
At this year's Super Bowl Gospel Celebration, Lewis will receive a Lifetime of Inspiration Award "for his faith-filled determination to overcome trials and tribulations on and off the field, while recognizing him for his remarkable football career."
As Lewis and his fellow Ravens look toward Super Bowl XLVII and New Orleans, where they'll be facing off against the San Francisco 49ers at the Superdome this Sunday, it's quite likely the leading linebacker will be as emotional as he has been for much of the season – in the "SNL" spoof the faux Lewis, played by actor Keenan Thompson, suggested he would "ascend to heaven" if the Ravens win.
But after the confetti drops and the parades reach their end, either in Baltimore or San Francisco, Lewis will reportedly turn to ESPN as a studio analyst and start putting in overtime cheering on his son, Ray Lewis III, in his college football career as a Miami Hurricane at his father's alma mater.
As Bryant confirmed, it was a desire to spend more time with his six children that motivated Lewis to put an end to his career on the field.
"He wanted in this season, not to be a superstar, but to be a fan and a father," the Baltimore minister explained.
While Lewis is in New Orleans this Sunday working on bringing home a Vince Lombardi Trophy, his church family in Maryland will be cheering him on. As for Bryant, if he can find a flight – "as soon as church is over, I'm headed straight to New Orleans."
Empowerment Temple, founded in 2000, is home to 8,000-10,000 members.