Recalling FDR and Lincoln During Their Respective Anniversaries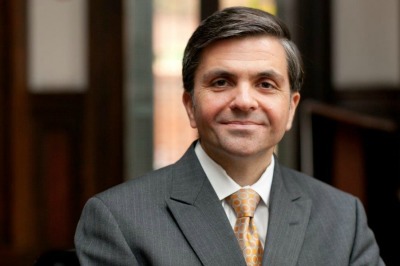 All the justifiable hoopla about the 150th anniversary of the Civil War's end and Lincoln's assassination has overshadowed yesterday's 70th anniversary of FDR's death.
Like Lincoln, FDR died after a four year war that killed hundreds of thousands of Americans. Like Lincoln, he died before the final victory but close enough to savor its inevitability. Like Lincoln, the war greatly aged FDR and certainly hastened his death. Like Lincoln, FDR was an epic figure who reshaped the nation and world. Like Lincoln, FDR was a brilliant and almost magical politician who intuited the providential course of American democracy. Like Lincoln, FDR could order thousands to their deaths, was intensely private, and Machiavellian, but also incessantly charming and exuded empathy for suffering humanity.
And like Lincoln, FDR died in convivial circumstances, during a rare respite from the pressures of power and responsibility. Lincoln died in a theater box with his wife and young friends, enjoying a comedy before an appreciative audience. FDR died at his cottage in Warm Springs, Georgia, bantering with admiring lady friends, including his two spinster cousins, a Russian portrait artist, and a wealthy widow who may have been his mistress nearly 30 years before.
Both Lincoln and FDR died as they planned for peace and retirement. Both died in the fragrant, warm air of Spring, in proximity to Easter and its message of new life. Lincoln was shot on Good Friday, died on Holy Saturday, and his death was reported to many Americans as they attended Easter worship. Lincoln's own pastor at New York Avenue Presbyterian, instead of a traditional Resurrection sermon, delivered a eulogy for his departed parishioner. He was widely rhapsodized as the figurative martyred Christ for American democracy. His shed blood, mingled with the blood of so many slain soldiers, became holy.
FDR had attended 11 days earlier his last Easter worship at the chapel he had constructed for polio patients seeking therapy in Warm Springs. He was seen fumbling with the hymnal in his frailty yet still robustly singing the hymns of the Episcopal Church, of which he was a lifelong communicant. President Truman would announce that FDR had given his life to the war no less than any combatant.
Both deaths were occasions for national pageants of grief and adulation. The bodies of both moved slowly through the countryside by train, with many thousands lining the tracks for mile after mile. Both, after White House funerals, were carried back to their homes accompanied by their wives and much of official Washington.
Lincoln had looked to reconciliation with the South and citizenship for freed slaves. FDR had envisioned a new world where conflict was arbitrated through the United Nations. Neither dream was fully realized, which would have surprised neither, each of whom was supremely a survivor of tragedy and struggle, having few illusions about the limitations of fallen humanity.
Yet each, guided by his faith and convictions, indelibly bent human destiny in a decisive new direction more aimed in the haphazard direction of human rights and dignity for all. Both merit remembrance this week and for all time.
Prior to joining the IRD in 1994, Mark worked eight years for the Central Intelligence Agency. He is a graduate of Georgetown University and is a native of Arlington, Virginia. A lifelong United Methodist, he has been active in United Methodist renewal since 1988, when he wrote a study about denominational funding of pro-Marxist groups for his local congregation. He attends a United Methodist church in Alexandria, Virginia. Follow Mark on Twitter
@markdtooley
.