Red Nose Day 2017: Nun Explains How Red Noses Help Homeless Youth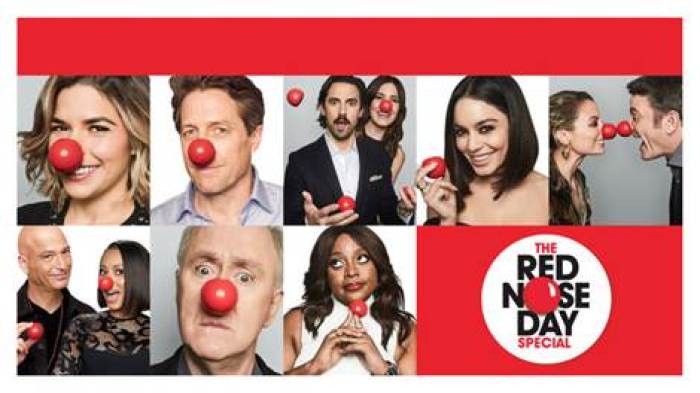 Countless people are wearing red noses or witnessing their favorite celebrities do so for Red Nose Day Thursday to help combat child poverty. While some may question how looking like a clown can accomplish such a huge feat, Sister Nancy Downing from the Covenant House New York is opening up about the direct impact that those red noses are having on the young people in her ministry.
Sr. Nancy is the executive director of Covenant House New York, a nonprofit charity that serves as a shelter, transitional home or safe house for over 250 young people who are homeless or victims of sex trafficking. For Sr. Nancy, Red Nose Day is an opportunity for people to learn about how they can help organizations like hers save young lives.
"Wearing that red nose gets people to ask questions and it gets a conversation going about the plight of our young children and issues of health, safety, access to education and living in safe places. Those are important conversations that we need to be having," she told The Christian Post. "I think what's exciting for me is that it raises awareness about child poverty not only in the United States but across the world. It helps to raise funds as well which is always a nice part of it."
Red Nose Day began in 1988 in the United Kingdom by the nonprofit organization called Comic Relief. The event came to the United States in 2015, and has raised $60 million worldwide since then for organizations aiding in the fight against child poverty.
While people are encouraged to donate on the Red Nose website, some high-profile people like business magnate Bill Gates and his wife Melinda are giving people an extra incentive by matching up to $1 million of donations through their foundation, The Bill & Melinda Gates Foundation. Places like Walgreens pharmacies are also racking up donations by selling red noses to people to help increase financial contributions.
Sr. Nancy explained how the funding raised from Red Nose Day helps Covenant House New York.
"First, it just raises awareness involving children in poverty, children who are homeless on our streets and those kids who we are working with. It helps provide us with the funds for core services that we provide for young people [like] transitional housing programs, medical and mental health services," she told CP. "It's really important that we have those kinds of services for so many of our young people that are in need."
According to Sr. Nancy, too many people are unaware that so many young people are struggling worldwide.
"I think one of the issues is just the lack of awareness. I think folks don't really realize how many young folks are on our streets every night," she said. "We pass them by during the day and don't recognize them as being homeless. The more young people that are out on the streets the more likely they are to be exploited and trafficked."
On Thursday night, NBC is doing its part to raise awareness and funds with a Red Nose Day charity telethon called "The Red Nose Day Special" at 10 p.m. ET. Comedian Chris Hardwick will host the live show from New York City's Rockefeller Plaza with appearances from entertainers like Julia Roberts, Ben Affleck, Jack Black, Orlando Bloom, and many more.
Aside from its telethon, NBC is airing special programming in honor of Red Nose Day at 8 p.m. with "Celebrity Ninja Warrior for Red Nose Day," followed by "Running Wild With Bear Grylls for Red Nose Day" at 9 p.m. where Academy Award-winning actress Julia Roberts will join the show.
A 15-minute sequel to the 2003 romantic comedy "Love Actually" will also air during the 10 p.m. NBC telethon. Richard Curtis, the writer and director of "Love Actually," co-founded the Comic Relief organization that started Red Nose Day.
For Sr. Nancy, seeing celebrities come together to help organizations like hers receive needed funding is nothing short of amazing.
"We're looking to the people in our world using their fame and fortune to be able to help others who are in need. They have big names but big hearts as well," she told CP. "I think it's just great that they're out there and trying to help our children."
For more information about the lineup of NBC events, click here. For more information about Red Nose Day, click here.