Catholic Archdiocese, Others Suing St. Louis Over Ordinance to Force Hiring of Pro-Abortionists

A group of entities, including a Catholic Archdiocese, are suing the City of St. Louis, Missouri over a recently enacted anti-discrimination ordinance that makes the decision to have an abortion a protected class.
Filed Monday in the U.S. District Court for Eastern District of Missouri, the complaint accuses the city of unconstitutionally curbing the rights of pro-life organizations when it passed Ordinance 70459.
"Ordinance 70459 prevents Plaintiffs—religious institutions, faith-based employers and pro-life organizations—from making employment and housing and real estate decisions consistent with their institutional missions and sincere moral and religious beliefs about human life," reads the complaint.
"Ordinance 70459 denies religious and pro-life organizations the right to practice their faith, to freely associate around a common cause, to speak freely, and to be true to their missions."
In addition to the Archdiocese, other plaintiffs include a company named O'Brien's Industrial Holdings and its devout Christian owner, and a pro-life charity group called Our Lady's Inn.
Sarah Pitlyk, special counsel with the Thomas More Society and a resident of St. Louis, told The Christian Post that the ordinance was "a threat to individuals who would promote and protect life."
"An example of how it affects Our Lady's Inn is that they can no longer ask applicants for jobs at Our Lady's Inn if they are pro-life or if they support the organization's pro-life mission. They can no longer expect their employees not to recommend abortion to the recipients of assistance," said Pitlyk.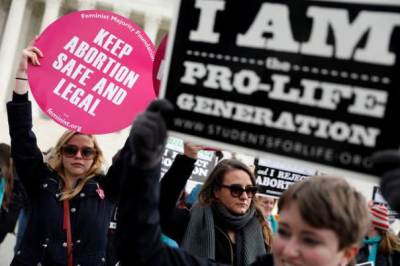 "They also can no longer ask prospective recipients if they are planning to have an abortion, because planning to have an abortion is one of the reproductive health decisions that is now protected and you're not allowed to take any 'adverse action' against someone to housing on the basis of planning to have to an abortion."
Pitlyk also told CP that they are looking into getting a preliminary injunction so that their clients and others will not be punished by the ordinance while the litigation is ongoing.
Passed in February, Ordinance 70459 bans "discrimination based on a person's reproductive health decisions or pregnancy."
Ordinance 70459 does include religious exemptions, at one point stating that "a religious institution, corporation, association, society, health care facility or educational institution with historic religious affiliation" is not barred from "Prohibiting the provision of any reproductive health service on property owned or leased by it," "Refusing to provide or pay for any reproductive health service to any patient, student or employee," and "Refusing to provide health insurance coverage to any employee for any reproductive health service."
Thomas More Society argues, however, "The law's limited religious exemptions are vague and undefined and do not cover individuals." 
Alderman Megan Green, the main sponsor for the ordinance, told the St. Louis Post-Dispatch that the lawsuit is "frivolous" and the law is necessary since "at least one woman has come forward" to file a complaint of discrimination on the basis of reproductive decisions.
"We know that discrimination does exist. (The ordinance) was done to make sure we are protecting women in making their own medical choices," argued Green.