Rehana, Poster Girl for Kurdish Peshmerga, Alive and 'Fighting Fiercely,' After ISIS' Claims of Beheading Her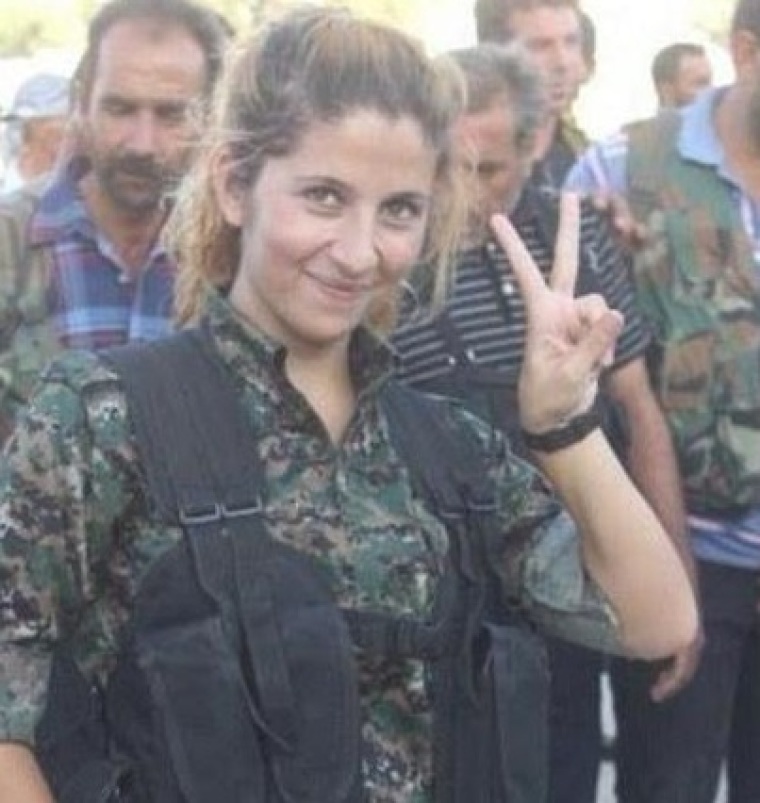 The woman who became a poster girl of Kurdish resistance in the city of Kobane is actually alive, contrary to rumors spread by members of ISIS, who claimed to have beheaded her.
The woman, who went by the name Rehana, was seen as an image of hope in the city as it fought ISIS forces. An image of her giving the peace sign while dressed for battle went viral, making her an international symbol. Just two days ago, though, ISIS militants claimed to have captured Rehana and killed her by beheading. They sent photos of members holding her head high, alongside the ISIS flag.
Friends of Rehana have come forward to put an end to the rumors and state that Rehana made it out of Kobane and is living in southern Turkey, alive and well.
"She is my friend and I confirm that she is alive," an anonymous source told MailOnline. "And the picture of [the] beheaded female fighter is not Rehana's picture. She is in Turkey. I will try to gain her number because I lost connection with her. She evacuated Kobane and I stayed in Kobane. At the beginning of the last clashes, Rehana left Kobane."
Right now, Kurdish Peshmerga fighters are battling for control of the border town; Syrian Arab rebels have arrived in order to provide the Peshmerga with support. The U.S. has also provided air support, reportedly destroying five ISIS fighting positions and six vehicles. The Peshmerga and Syrian rebels apparently need further support, though it's unknown if they will be able to receive it in time to save the city of Kobane.
"The only way to help Kobane, since other countries don't want to use ground troops, is sending some peace-oriented or moderate troops to Kobane. What are they? Peshmerga … and Free Syrian Army," Turkish Prime Minister Ahmet Davutoglu told the BBC.
Meanwhile, news of Rehana's safety has reached Syrian/Kurdish journalist Rashad Abdel Qader, who noted that she was "fighting fiercely."
Rehana, 28, told reporters that she wanted to join the forces because she "lost many friends to this, and decided there was a need to join up. This is our land—our own—and if we don't do it, who else will?"