Reject 'Passive' Christianity, Former MMA, WWE Star Ken Shamrock Tells California Megachurch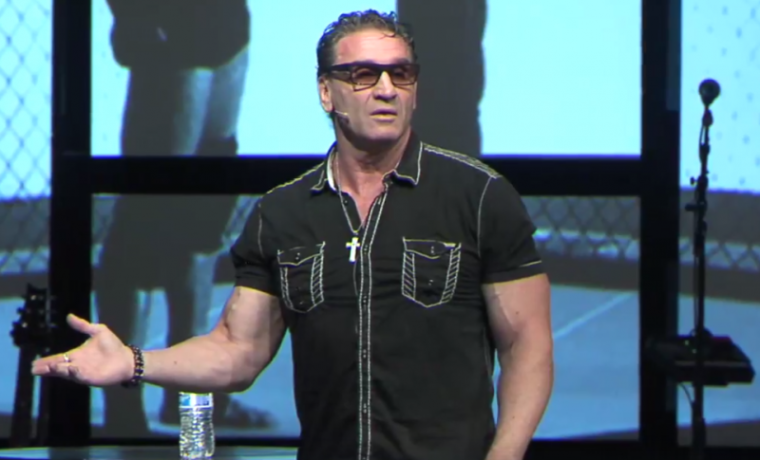 Former accomplished mixed martial artist and ex-professional wrestler Ken Shamrock told worshipers at a California megachurch that they should reject "passive" Christianity.
Speaking at Valley Bible Fellowship of Bakersfield on Sunday, Shamrock warned against being indifferent in witnessing, advising: "Don't sit on your Bible."
"Don't hug it to your chest and keep it to yourself. God created you a certain way. Just because you've become a Christian doesn't mean you become passive," said Shamrock.
"It doesn't mean you become all-loving and all-caring and there's no discipline. You got to stand up and become the aggressive person God made you to be or the loving and intelligent person He made you to be."
Shamrock also told the congregation of Valley Bible that they should not let the "seatbelt of sin" prevent them from evangelism.
"The difference between speaking out on something like this is life and death. And when I say that I mean eternal life and eternal damnation," he noted.
"Don't ever pass up an opportunity to spread God's Gospel or His Word because it is eternal life or eternal damnation."
A native of Macon, Georgia, and commonly known as the "World's Most Dangerous Man," Shamrock has an extensive professional fighting and pro-wrestling background.
"Shamrock is a worldwide recognized MMA fighter and is an inductee into the UFC Hall of Fame," noted Valley Bible Fellowship on its website.
"Along with fighting in the UFC, Shamrock also wrestled in the WWF (Now called World Wrestling Entertainment) and was the first ever Pancrase Heavyweight World Champion in Japan."
As part of his remarks at Valley Bible, Shamrock discussed his troubled upbringing, which included being raised in a poverty-stricken part of Macon and eventually running away from home and a criminal record.
He explained that his spiritual development as a teenager was greatly advanced by his time at a boys home overseen by the man who eventually adopted him, Bob Shamrock.
"The only difference between that group home and all the other ones that I went to was church," recalled Shamrock during his speech at Valley Bible on Sunday.
He stressed that he believed this was the reason that the boys home helped to turn his life around even when the other homes failed.
In addition to his professional fighting career, Shamrock also oversees other endeavors, including business ventures and public speaking, as well as a charity to benefit at-risk youth.
"Shamrock is also the founding father of Lion's Den Ministries, a non-for-profit that serves as a mouthpiece to troubled youth and young adults," noted Valley Bible.
"Furthermore, Shamrock has written two books, Inside the Lion's Den and Beyond the Lion's Den, and has appeared in several films."