Religion New Service's Misleading Chart on Christian Groups' Support for Gay Marriage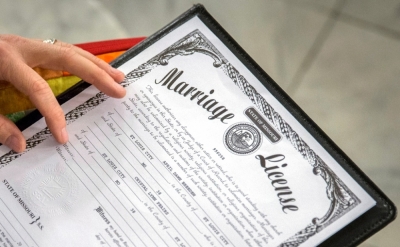 Religion News Service's Lauren Markoe authored a story yesterday on the Presbyterian Church (USA) decision to permit same-sex marriages and how, according to a poll from the Public Religion Research Institute (PRRI), a majority of Mainline Protestants now support the practice.
At the same time, the article notes that the majority of church-affiliated Americans belong to denominations that forbid gay marriage, including Roman Catholics, most Baptists, Pentecostals, evangelicals and Mormons. Markoe also reports that Mainline Protestants have lost ground in recent decades to other denominations and to independent churches.
Accompanying the article is a denominational chart of same-sex marriage support, with some interesting inclusions – and omissions. Taken together, the missing churches constitute tens of millions of members – a significant slice of the U.S. religious pie – all on record opposing redefinition of marriage. Meanwhile, all denominations nationally and globally that support same-sex marriage are in a state of decline.
Alongside Mainline Protestant and some Jewish groups, the chart reports support from the Alliance of Baptists for same-sex marriage. The liberal group of 130 congregations split off from the Southern Baptist Convention in the 1980s and reports 65,000 members.
The RNS chart cites the LGBT advocacy organization Human Rights Campaign as the source of their data, which may itself be troubling. HRC is motivated to show momentum among religious groups for an embrace of same-sex marriage. By elevating tiny groups like the Alliance of Baptists that favor same-sex marriage while excluding significantly larger churches that oppose it, RNS conveys the HRC data in such a way that it appears 40 percent of these religious groups affirm the practice, when in reality a tiny minority do.
In the same chart, the large Assemblies of God goes unmentioned (apparently lumped into the more generic "Pentecostal" category). All but one historically African American denomination is omitted. What about the Wisconsin Evangelical Lutheran Synod? The Evangelical Presbyterian Church? The Anglican Church in North America? All are significantly larger than the Alliance of Baptists yet go unmentioned, as do Evangelical churches such as the Church of the Nazarene, Salvation Army and Wesleyan Church.
Perhaps the most puzzling part of the chart is Orthodox Christianity, correctly listed as opposed to same-sex marriage, but with the word "most" in parenthesis next to it. Are we aware of any Orthodox Christian denomination that is on-record supporting redefinition of marriage? I have no doubt that there are some Christians worshipping in Orthodox churches who support same-sex marriage, but this chart is ostensibly about denominational policy, so why the "most" qualification for that tradition and not for others?
Below is a list I have compiled of several churches missing from the RNS charts, all of which are larger than the Alliance of Baptists and oppose the redefinition of marriage:
Church of God in Christ 8,000,000

African Methodist Episcopal Church 2,510,000

Church of the Nazarene 2,295,106

Assemblies of God 1,755,872

African Methodist Episcopal Zion Church 1,400,000

Salvation Army 1,150,666

Christian Methodist Episcopal Church 850,000

Christian and Missionary Alliance 417,000

Wisconsin Evangelical Lutheran Synod 380,728

Foursquare Church 353,995

Evangelical Free Church 371,191

Wesleyan Church 194,000

Association of Vineyard Churches 189,000

Baptist General Conference 147,500

Evangelical Presbyterian Church 145,000

North American Lutheran Church 140,000

Anglican Church in North America 112,504

Free Methodist Church 75,586
Jeff Walton is Communications Manager for the Institute on Religion & Democracy and directs the Anglican program. He graduated in 2001 from Seattle Pacific University and is a member of Restoration Anglican Church in Arlington, VA.