Report Reveals 'Terrifying' Abuse, Rape of African Women, Children at Migrant Centers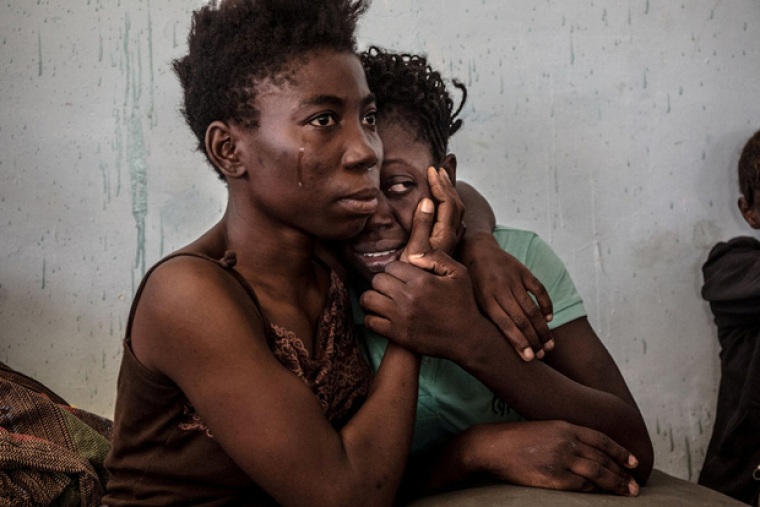 There is a "terrifying" epidemic of rape, sexual abuse, slavery, and other brutalities against migrant women and children trying to cross into Europe from Africa, United Nations child protection agency UNICEF reported.
The report, titled "A Deadly Journey for Children," released on Tuesday, revealed that a total of 25,846 children crossed North Africa to Italy using the Mediterranean route in 2016. UNICEF interviewed 82 women and 40 children, who detailed the abuse they received on their journey.
"What came out of this report is quite stark and shocking," Sarah Crowe, UNICEF spokesperson for refugee and migrant crisis, told Al Jazeera. "Testimonies coming from these children are truly surprising and terrifying."
"We have access to some of the detention centers in Libya, but a great majority of migrant children in that country are still in the shadows," Crowe added.
Half of the 122 women and children in total reported to have experienced sexual violence, multiple times and in multiple locations. One-third of the migrants said that they had been abused in Libya, with the sexual violence reportedly "widespread and systemic at crossings and checkpoints."
Moreover, men were, on occasions, killed when trying to intervene and save the women and children from smugglers and other abusers.
"The Central Mediterranean from North Africa to Europe is among the world's deadliest and most dangerous migrant routes for children and women," explained Afshan Khan, UNICEF regional director and special coordinator for the Refugee and Response Crises in Europe.
"The route is mostly controlled by smugglers, traffickers and other people seeking to prey upon desperate children and women who are simply seeking refuge or a better life. We need safe and legal pathways and safeguards to protect migrating children that keep them safe and keep predators at bay."
One of the profiled young girls, identified as 9-year-old Kamis, who fled with her mother from Nigeria, shared of the abuse they suffered at a detention center in the Libyan town of Sabratha.
"They used to beat us every day," Kamis said. "There was no water there either. That place was very sad. There's nothing there."
Fourteen-year-old Issa, who left her home in Niger two and a half years ago only to end up at a Libyan detention center, expressed that she wanted to "look for work, work hard to earn a bit of money to help my five brothers at home."
Issa said that her father "collected money for my journey, he wished me luck and then let me go."
Khan insisted that "children should not be forced to put their lives in the hands of smugglers because there are simply no alternatives."
The report warned that Libya's unstable political situation makes it difficult to tackle the trafficking and abuse of women and children, but called on a regional initiative to improve birth registration, and find safe and legal pathways for children to flee armed conflicts.
Justin Forsyth, the organization's deputy executive director, told BBC News that "whether they're migrants or refugees, let's treat them like children."
"It's a reflection of our humanity, our values, how we respond to this crisis," he stressed.
A mass rape epidemic was also reported earlier in February inside the Dunkirk refugee camp in Northern France.
Migrants, especially women and children, revealed being trafficked into slavery and sexual abuse, with the danger of rape so severe that women said they were choosing to wear adult diapers rather than go to the toilet at night.