Republican Candidate Includes Same-Sex Partner in Campaign Advertisement
A San Diego council member has become the first openly gay Republican to include his same-sex partner in a campaign advertisement.
Carl DeMaio, who is currently attempting to win the Republican primary, and challenge Democrat Rep. Scott Peters, has featured footage of his partner, Johnathan Hale, and himself at a pride parade in 2012 in a campaign spot that was released on Thursday.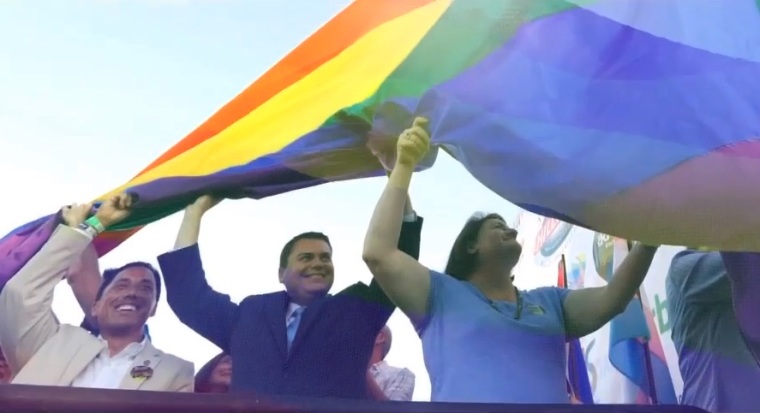 GOP campaign officials and Elizabeth Wilner, who tracks campaign ads for the nonpartisan firm Kantar Media, told The Wall Street Journal that to their knowledge this was the first political advertisement from either party which included a politician's gay partner.
DeMaio, who is running against two other Republicans, has received the support of several high profile House leaders, including Majority Leader Eric Cantor (R-Va.) and Majority Whip Kevin McCarthy (R-Calif.), who have given the campaign $10,000 and $5,000 respectively.
DeMaio said that Hale did not have a problem appearing in the video because he supported his partner's political ambitions.
"You know, I think he's very supportive because he knows that I am very passionate about reforming our nation's finances and getting people back to work and holding government accountable just like I did in San Diego to save the city from bankruptcy," DeMaio told The Wall Street Journal. "In order to do this, I think we need to fix our political party, getting it off the divisive social issues and refocusing their attention on fiscal and economic reforms that are able to unite Americans, rather than divide them."
DeMaio also said he didn't think including Hale was a "big deal."
"You see straight candidates feature their spouses, their children, and sometimes their household pets," he added.
The Wall Street Journal's Patrick O'Connor predicted that there could be a "backlash from some conservative activists who have made this a big issue," citing Brian Brown, president of the National Organization for Marriage as an example.
Brown sent an email to supporters in September that said that DeMaio was a "pro-gay 'marriage,' pro-abortion candidate" and that the council member was "fine with abandoning the most important foundational institution of society."
He also called DeMaio a "trophy candidate [Republicans] can point to and say to the media, 'see, we're progressive, too. We've evolved' … In DeMaio, they hope to have a colleague who can steer their way to some of the millions that go into gay political causes."
DeMaio is one of three openly gay Republicans running for Congress this year, including Dan Innis in New Hampshire and Richard Tisei in Massachusetts.
"I think if you are a party that believes in financial freedom and economic freedom and you're against the government taking money or government mandating or regulating businesses, then I think that your commitment to personal freedom should extend to people's private lives," said DeMaio. "Let's get government out of what happens in people's personal lives and in their people's bedrooms and refocus the attention of government to economic reform because those issues are pressing and have not been really addressed by either party in recent years."