Response to Billboards Witnessing to Atheists 'Exceeded our Expectations,' Says Creationist Leader
The head of a creationist organization that recently posted several billboards in the United States meant to reach out to atheists has said the response "has exceeded our expectations."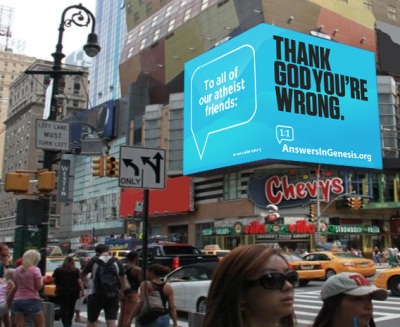 Earlier this month the group Answers in Genesis posted billboards and a digital ad at Times Square that included a link to their websites and the statement "Thank God you're wrong" which was directed at atheists.
Ken Ham, president of Answers in Genesis, told The Christian Post that since the ad campaign began the group has seen a 30 percent increase in viewing traffic for their website and increased social media activity.
"Social media is way up, web traffic is way up, significantly up," said Ham, whose organization has posted three more billboards in the Los Angeles area earlier this week.
"To date, it has exceeded our expectations. It's every bit of what we hoped for but I would say it's even a lot more than that."
Earlier this month, Answers in Genesis posted three billboards in the San Francisco Bay Area and a "digital spectacular" ad at Times Square in New York City.
The billboards have the brief message "To all of our atheist friends: Thank God You're Wrong" and the URL for the website of Answers in Genesis.
For the Times Square digital display, there is a 15 second message, which is also available on YouTube and features the same message as the traditional billboards.
Reactions online and offline have been mixed, with many atheist bloggers and groups taking exception to the billboards and Times Square ad.
David Silverman, president of American Atheists, told The Christian Post that in his opinion the ads "are not really aimed at atheists."
"Ads aimed at atheists would have substance intended to grab our attention, get us to go to the web site, etc. An ad intended for atheists would read, 'we have proof,' 'we have a new and better argument' or 'we have something you haven't thought of,'" said Silverman.
"It's meant for Christians, who want to see AIG spending their money on something other than debt payments and their own salaries. These billboards will allow AIG to raise money - far more than the billboards cost - because they can now say they are 'reaching out to' millions of atheists."
Silverman also told CP that his group will respond to the ads with their own billboard displays soon. As American Atheists plan their response, the Wisconsin-based atheist group Freedom From Religion Foundation has already posted a billboard in response to the Answers in Genesis Times Square ad.
The billboard has the phrase "OMG, there is no god!" alongside the face of former "Saturday Night Live" cast member Julia Sweeney and was placed at the intersection of 42nd Street and Eighth Avenue.
Ham of Answers in Genesis told CP that he took exception to the FFRF billboard, arguing that its message was hateful in nature.
"I think that's deliberately in the face of Christians, shaking their fist at God because it's taking God's name in vain and they know that," said Ham.
"Our approach wasn't to denigrate them. We certainly boldly told them they're wrong, but they had to do something that was offensive to Christians, that is to take God's name in vain."
According to Ham, the billboards and the ad will be up for thirty days after their initial posting earlier in October.