Rev. Billy Graham Hospitalized With Respiratory Problems
Concerned Christians Start Using Twitter, Facebook Hashtag '#PrayingForBillyGraham'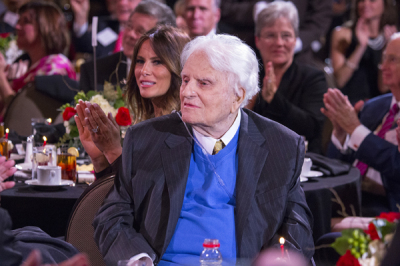 The Rev. Billy Graham, 95, was admitted to a hospital in Asheville, N.C., Tuesday after experiencing respiratory problems, a family spokesman has confirmed.
"Mr. Graham is in the hospital with a respiratory congestion issue, similar to what he had a few weeks ago," said spokesman Mark DeMoss. "As was the case then, we expect he will be able to return home in a day or two."
The Christian evangelist and world-renowned preacher, who has battled several health issues in the past, was expected to be released from Mission Hospital and return to his mountain home on Thursday.
Graham's admirers, concerned by the news regarding his health, had taken to Twitter and Facebook Wednesday and started using the "#PrayingForBillyGraham" hashtag.
Graham, who retired from public preaching several years ago, held a gathering on Nov. 7 to celebrate his birthday and the release of his new message for America titled "The Cross."
The pre-recorded message, described by Graham as possibly his final one to America, was broadcast on Fox News, TBN, God TV and several other cable networks, as part of his Billy Graham Evangelistic Association's "My Hope" campaign. The message has also been made available online and on DVD.
Graham, who lost his wife Ruth Bell Graham in June 2007 and with whom he fathered five children, retreated to his North Carolina mountain home in 2005 after nearly 60 years of preaching. He has authored nearly three dozen books, his latest being The Reason for My Hope: Salvation (Oct. 2013).
Learn more about the Rev. Graham's ministry career: Billy Graham Turns 95: Milestones in Influential Evangelist's Ministry and Preaching Career.
Watch "The Cross" — Billy Graham's Message to America below: