Richard Dawkins Converting to Christianity? Artist Envisions 'Most Epic I Am Second Video Ever'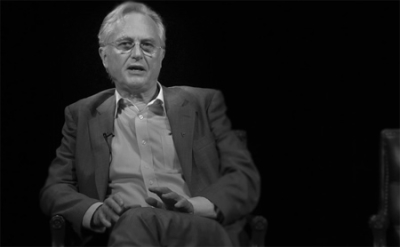 A Christian comic artist thinks believers would go wild with excitement if evolutionary biologist and avowed atheist Richard Dawkins came to faith in Jesus Christ and shared his testimony in an "I Am Second" video.
IAmSecond.com hosts a collection of video testimonies from celebrities, musicians, athletes and others from all walks of life sharing how they came to faith in Christ.
"I love the 'I Am Second' website. Love it," cartoonist Wes Molebash told The Christian Post Tuesday, a day after publishing a comic strip of Dawkins sitting in the "I Am Second" chair and making the introductory confession.
"It's always interesting to hear how God shows up in a person's life and makes Himself evident. I also think it's interesting that a lot of the testimonies that are championed by the Church (not just 'I Am Second') are stories that involve a once-faithless person who, through one circumstance or another, comes to faith," he added in his email to CP.
In a post published Monday and titled "The Most Epic 'I Am Second' Video Ever!" Molebash shares a comic strip of Dawkins wearing the traditional "I Am Second" black t-shirt and sitting on a white sofa chair while staring into a camera.
"My name is Richard Dawkins," he says. "And I am second."
"Now imagine if Richard Dawkins used 'I Am Second' to announce that he became a Christian. Holy crap, Christians would go nuts, wouldn't we?!" writes the cartoonist on his InsertImg.com website. "We'd be running through the streets screaming, 'We got Dawkins! We got Dawkins!'
"Then we'd have a huge celebration at Willow Creek Church, and Richard Dawkins would come out wearing his new Jesus uniform."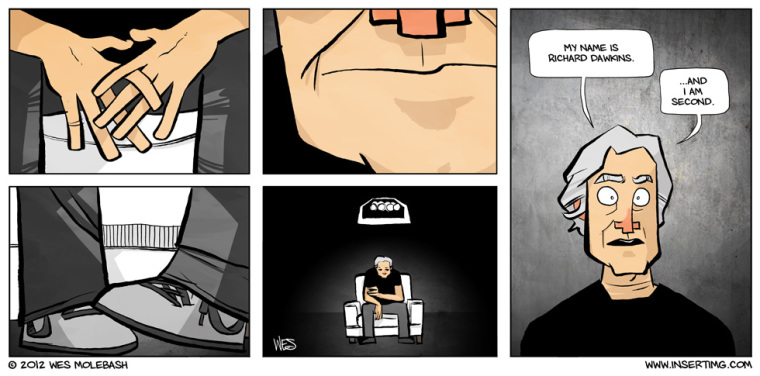 While admitting that seeing Dawkins embrace Christ "is highly unlikely," the cartoonist insists that if that day ever comes "it'd be epic nonetheless."
Dawkins, the author of The God Delusion and founder of the Foundation for Reason and Science, is known for his antagonism toward Christianity, and faith in general.
"Science offers us an explanation of how complexity (the difficult) arose out of simplicity (the easy). The hypothesis of God offers no worthwhile explanation for anything, for it simply postulates what we are trying to explain," the renowned atheist has said.
While Dawkins has never shown any indication of reconsidering his views on faith, one Christian minister has credited the evolutionary biologist with helping to draw others to Christ.
"Richard Dawkins has done us a big favor," said Scottish minister the Rev. David Robertson in November. He added, "I actually know of people who have been converted through reading The God Delusion and interacting with the discussion."
Molebash lives in Chillicothe, Ohio with his wife and has been drawing cartoons since he was a kid. He says he finds many of his ideas through serving as the small groups pastor at Centerpoint Church and living out his faith.
"Believe it or not, there's A TON of humor that comes from the Christian sub-culture. The way we talk. The way we dress. The way we interact with each other in person and online. It's rife with comedic possibilities," he explained to CP.
Molebash's credits include "You'll Have That" and "Max vs. Max," and he has contributed comics to Josh Howard's "Dead@17," "Rough Cut Vol.2," "Sasquatch," and various other anthologies. The artists says his work is about entertainment and not evangelism – "I'm not comfortable boiling down the Gospel into 3 or 4 panels every week. Jesus is bigger than that."
The artist says he would love to one day work with companies like Big Idea or Jelly Telly. Meanwhile, Molebash's latest project, "Insert Image," updates every Monday on his website.