Richard Dawkins, Lawrence Krauss Film 'The Unbelievers' Trailer Debuts
The Richard Dawkins Foundation for Reason and Science announced a new movie titled "The Unbelievers" set to premiere in 2013 that will explore the importance of science and reason in the modern world – while taking aim at religion.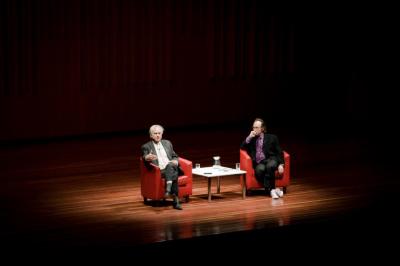 "Science is wonderful, science is beautiful. Religion is not wonderful, religion is not beautiful, it gets in the way," Dawkins says in the official trailer for "The Unbelievers."
The documentary film follows Dawkins and award-winning theoretical physicist and author Lawrence Krauss giving speeches and speaking with people while promoting a scientific worldview. The film features a number of famous names, such as Academy-award winning director Werner Herzog, who praises their efforts:
"I think what these two men are doing out there, promoting a scientific worldview, is something of great value," Herzog says.
A synopsis of the film on the Facebook page, which states that the film will be released sometime in 2013, states that the documentary "follows renowned scientists Richard Dawkins and Lawrence Krauss across the globe as they talk about the benefits of science in the modern world – while criticizing a political/religious approach to global issues."
Some of the celebrities who have lent their voice to the work, besides Herzog, include comedian Ricky Gervais, actor and director Woody Allen, actresses Cameron Diaz and Sarah Silverman, fellow theoretical physicist Stephen Hawking, and others.
Twitter updates note that the film was completed in January, while the majority of celebrity interviews were conducted in 2012. The team behind "The Unbelievers" says that the reaction they have received for the trailer has been "overwhelmingly positive."
The film's trailer has already generated a lot of discussion on YouTube and has been viewed close to 90,000 times since it was posted last Friday.
"This can be our 'The Passion of the Christ,'" said one viewer in the comments section.
Watch the trailer for "The Unbelievers" below: