Richard Dawkins Loses Debate Against Former Anglican Head Rowan Williams at Cambridge University (FULL VIDEO)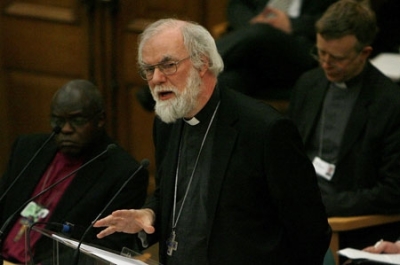 The former Archbishop of Canterbury, Dr. Rowan Williams, defeated prominent atheist professor, Richard Dawkins, in a debate at the University of Cambridge in England on Thursday night, as a vote taken at the conclusion of the debate ruled that religion does have a place in the 21st century.
The debate motion that "religion has no place in the 21st Century" was well-defeated at the event held in front of an audience of about 800 people, mostly students, at the Cambridge Union Society's chambers, according to the U.K.'s Independent newspaper.
Dawkins lost the debate by 324 votes to 136, as he failed to convince the house that religion has no place.
"Religion has always been a matter of community building, a matter of building relations of compassion, fellow-feeling and, dare I say it, inclusion," Williams, who stepped down as the leader of the worldwide Anglican Communion on Dec. 31, said in his address. "The notion that religious commitment can be purely a private matter is one that runs against the grain of religious history."
Williams pointed out that respect for human life and equality was inherent in all organized religion. "The very concept of human rights has profound religious roots… The convention of human rights would not be what it is were it not for the history of philosophical religious debate."
Dawkins, who described himself as a "cultural Anglican," said if he was a cultural Muslim, "I would have something to say about that faith's appalling attitude to women and various other moral points."
Dawkins, an emeritus fellow of New College, Oxford, told the audience his main concern was simply whether religion was true, and described religion as a "cop-out."
"It is a betrayal of the intellect, a betrayal of all that's best about what makes us human," he argued. "It's a phony substitute for an explanation, which seems to answer the question until you examine it and realize that it does no such thing… It peddles false explanations where real explanations could have been offered, false explanations that get in the way of the enterprise of discovering real explanations."
Professor Tariq Ramadan, Professor of Contemporary Islamic Studies in the Faculty of Oriental Studies at Oxford University; Andrew Copson, the chief executive of the British Humanist Association; and Douglas Murray, founder of the Centre for Social Cohesion, also took part in the debate.
The Union – the largest society at the University of Cambridge – has a long and distinguished history of hosting leading state and international political figures in its chamber, from presidents to prime ministers and Oscar winners to Olympic legends. It has formerly hosted Sir Winston Churchill, Desmond Tutu and the Dalai Lama.
During a public debate between Williams and Dawkins last February at Oxford University, Williams pressed Dawkins, a vice president of the British Humanist Association, on the idea that humans were unlike other creatures in being able to reflect upon themselves and their own purpose. The argument also turned towards the question about why a loving God allows suffering, a question that Williams accepted did not have easy answers. Dawkins, an emeritus fellow of New College, Oxford, attacked religion for providing a "terrific illusion of design which fooled humanity into the 19th Century."
Williams, 62, started a new role as Master of Cambridge University's Magdalene College this year.
Here is a video recording of the Richard Dawkins and Rowan Williams debate at Cambridge University:
Richard Dawkins, Andrew Copson & Arif Ahmed debate Rowan Williams, Tariq Ramadan & Douglas Murray