Rick Perry Quits Presidential Race 'With No Regrets;' Says God's Will 'Superior to Mine'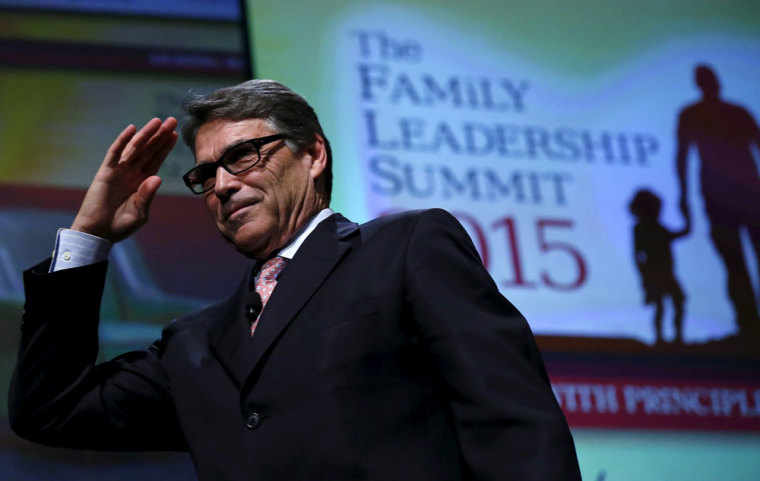 Former Texas Gov. Rick Perry announced Friday that he is suspending his presidential campaign, becoming the first to drop out of the 2016 Republican presidential nominating contest. He said he still believes in the conservative message and that Christ's "ways are greater than my ways. Your will superior to mine."
"When I gave my life to Christ, I said, 'Your ways are greater than my ways. Your will superior to mine,"
Perry said at a conservative conference in St. Louis, Missouri. "Today I submit that His will remains a mystery, but some things have become clear. That is why today I am suspending my campaign for the presidency of the United States."
Perry formally entered the race for Republican nomination more than three months ago, but had not been able to garner much support among GOP voters and donors, and nor could he qualify for the main debates.
In his speech, Perry appeared to make a swipe at the GOP frontrunner Donald Trump, with whom he had had troubled relations over the last few months, saying that the conservative message is greater than the man.
"The conservative movement has always been about principles, not personalities. Our nominee should embody those principles. He – or she – must make the case for the cause of conservatism more than the cause of their own celebrity," Perry said. "I still believe in the power of that message – a message that offers hope, redemption and solace in the midst of storms."
Trump, whose campaign had targeted Perry, responded to the announcement, by tweeting, "@GovernorPerry is a terrific guy and I wish him well- I know he will have a great future!"
However, Louisiana Governor and presidential candidate Bobby Jindal blasted Trump after his tweet. "@realDonaldTrump Attacked him one day. Praised him today. Sounding like a typical politician. Rick is a better man than you'll ever be," Jindal tweeted.
Perry, who ended his second consecutive run for the presidency on Friday, called 2016 Republican candidates "a tremendous field – the best in a generation," saying he is stepping aside "knowing our party is in good hands, and as long as we listen to the grassroots, the cause of conservatism will be too."
The longest-serving governor in Texas history added: "I share this news with no regrets. It has been a privilege and an honor to travel this country, to speak with the American people about their hopes and dreams, to see a sense of optimism prevalent despite a season of cynical politics."
Perry also spoke about his family. "And as I approach the next chapter in life, I do so with the love of my life by my side, Anita Perry. We have our house in the country, we have two beautiful children and two adorable grandchildren, four dogs, and the best sunset from our front porch that you could ever imagine."
Some of Perry supporters think he quit the race prematurely. "Perhaps Governor Perry sees something that I don't," CNN quoted David Johnson, an Iowa state senator, as saying.
Perry's campaign could raise only $100,000 in the two months since the last reporting period, according to Doug Deason, the son of a $5 million donor to the Perry super PAC.
"He [Perry] felt it coming," Deason was quoted as saying. "He knew there's only so much the super PAC can do. After the word got out they were struggling, they did start getting donations in – but it just wasn't enough to really make a difference."