Rick Warren: 5 Reasons Why Christians Need a Church Family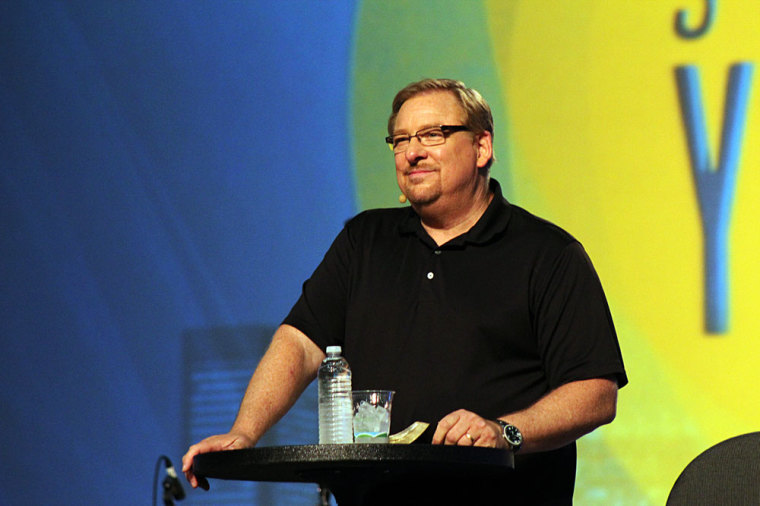 Christians should be part of a "church family" and not try to live spiritually on their own, says Saddleback Church senior pastor and best-selling author Rick Warren.
In his Daily Hope devotional on Monday, the megachurch pastor stressed that being part of a church family is essential to fulfilling God's purposes for one's life.
"You cannot fulfill the five purposes (worship, fellowship, discipleship, ministry, evangelism) on your own. Life is not a solo act. You were created for community," wrote Warren.
"The only way you can fulfill God's five purposes in your life is with people in your life who are giving you spiritual input. You need a church family!"
Warren added that a major reason for this need is that "the church helps you center your life around God" and that "God didn't put you on Earth to live a self-centered life."
"His purpose for you is to build your life with him at the core. You were planned for God's pleasure. He made you to love you, and he wants you to love him back," continued Warren.
"Can you see that God meant for you to be a part of a church family? When you are, it helps you focus and center your life around God so that you can fulfill His purpose for you."
Earlier this year, Warren emphasized the importance of church in the spiritual life and development of a believer.
In June, he hosted a three-day "Purpose Driven Conference" at the Lake Forest, California, campus of Saddleback Church, which included attendees from 33 different countries and all 50 states.
In a devotional published days after the conference concluded, Warren noted that an important reason to be involved in a church community is that it's part of the "family of God," which will outlast all other things.
"A thousand years from today, if there's still Earth here, there won't be a Microsoft. There won't be a Hollywood a thousand years from today. There won't be a United States of America, because no earthly kingdom lasts forever. There won't be all of the things we think are so great," wrote Warren this summer.
"But there will still be the family of God. God's people last. It's the only thing that's going to last. … I make no apology in saying to you that maybe joining a spiritual family will be the most significant thing you do with your life."