Rick Warren Becomes Target of Internet Scammers Looking to Profit From His Son's Death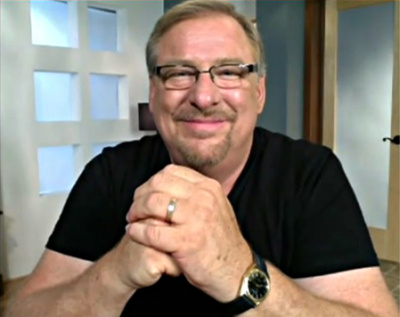 Pastor Rick Warren, author of the best-selling book, The Purpose Driven Life and founder of Saddleback Church, sent out a message of thanks to his Facebook and Twitter followers who've alerted the social media outlets to remove imposters soliciting money from people who think they're following the real Rick Warren.
Warren announced Tuesday that "179 of over 200 FAKE Rick Warren Facebook pages created by scammers to make money on my son's death have now been shut down. We're still working on the rest. Thanks to you friends for reporting them and thanks for 'LIKING' this real page. I appreciate you so much for your help. God bless you."
The message received more than 13,500 "Likes" on Facebook and 166 retweets and 142 favorites on Twitter.
Following the suicide of the Warrens' youngest son, Matthew, in April, the family sent a message to members of the congregation and others who want to help, asking them to first sign a petition to raise awareness about mental illness. Second, the family asked for everyone to pray for and encourage families who are caring for family members who have a mental illness. Lastly, the Warrens' established a way for people to make an online tax-deductible donate to The Matthew Warren Fund for Mental Health.
Internet scammers looking to make a profit off of the newly founded nonprofit organization created fake social media accounts posing as Warren and solicited unsuspecting followers for donations.
Ed Stetzer, president of LifeWay Research, told CNN on Thursday that criminals are creating fake accounts that appear to be legitimate because they use photos that are available on the Internet to create pages that are used to lure trusting people who are then solicited to donate money.
"I think it's important that people always recognize that there's a lot of evil people in the world, and those evil people try to do evil things," Stetzer said. "People see the name and they click 'friend' or 'like' and then the criminals begin to reach out to people who trusting that they're hearing from trusted Christian leaders."
The Christian Post reported on Rick and Kay Warrens' return to the pulpit at Saddleback Church in Lake Forest, Calif., two weeks ago, as the founders spoke about their grief after the loss of their son, Matthew, their unfailing hope in God, and their six-week sermon series, "How to Get Through What You're Going Through" that focuses on the six stages of grief – shock, sorrow, struggle, surrender, sanctification and service.
Founded in 1980 by the Warrens, Saddleback Church's main campus is located in Lake Forest. In addition, there are several regional locations throughout Orange and Riverside counties, and several international locations in the early stages of church planting. With an average weekly attendance of 22,000, it is one of the largest churches in the United States. All services can be watched live at Saddleback.com/onlinecampus.