Rick Warren Cancels Obama-Romney Civil Forum Due to Lack of Civility
A Forum on Religious Freedom Will Be Held Instead
Pastor Rick Warren has canceled his highly anticipated "Saddleback Civil Forum" with presidential candidates Barack Obama and Mitt Romney, citing a lack of civil discourse between the two campaigns. Warren will hold a forum on religious liberty instead, which may bring attention to the Obama administration's birth control mandate less than two months before the presidential election.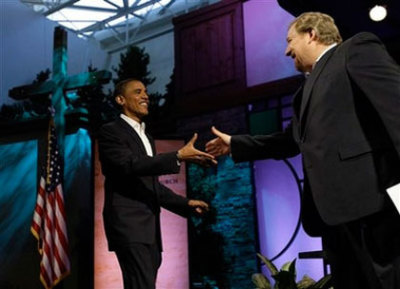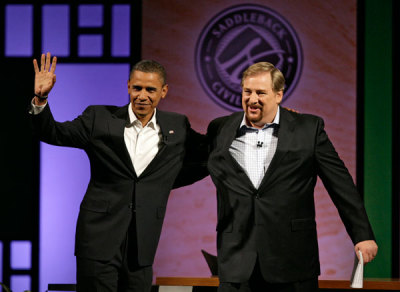 "We created the civil forums to promote civility and personal respect between people with major differences," Warren told The Orange County Register.
"The forums are meant to be a place where people of goodwill can seriously disagree on significant issues without being disagreeable or resorting to personal attack and name-calling. But that is not the climate of today's campaign.
"I've never seen more irresponsible personal attacks, mean-spirited slander, and flat-out dishonest attack ads, and I don't expect that tone to change before the election. ... It would be hypocritical to pretend civility for one evening only to have the name-calling return the next day."
Instead of a presidential civil forum, Warren's Saddleback Church in Southern California will host a forum on religious liberty.
Government bureaucrats at the federal, state and local levels, Warren said, "are daily trying to limit that freedom, impose restrictions, and stifle expressions of faith on campuses, in hospitals, and in businesses. There are widespread attempts to redefine the First Amendment to simply mean 'You are free to believe anything at your place of worship but you are not free to practice your conscience elsewhere.'"
"The Constitution doesn't just guarantee your freedom to worship," Warren added, "it guarantees your freedom from government intervention in your daily living out what you believe."
Warren did not specifically name who will speak at the forum, but said that he would have some of America's most prominent Catholic, Jewish and Muslim leaders.
The most well-known religious freedom issue taking place currently is over the President Obama administration's birth control mandate. Under the new health care law, employers who provide health insurance to their employees will be required to cover contraception, sterilization and some abortifacient drugs.
Due to a narrowly written religious exemption, many religious organizations that oppose some or all of those services in their religious doctrine will be required to abide by the mandate or face stiff penalties. Dozens of lawsuits over the mandate are currently in various federal courts.
One of the main complaints in these lawsuits is that the exemption only provides religious liberty to religious activities that are for the benefit of adherents, like a worship service; religious activities that focus outward, that serve others, are not protected.
Warren did not specifically mention the birth control mandate in his interview with The Orange County Register, but he did say that "Obama's policies clearly show what he values and I have told him that I adamantly disagree with those particular policies."
In an April interview on ABC, Warren did specifically criticize the birth control mandate.
"The issue here is not about women's health," Warren said. "There is a greater principle and that is, do you have a right to decide what your faith practices. Now, I don't have a problem with contraception. I'm a Protestant, I'm an evangelical. But I do support my Catholic brothers and sisters to believe what they want to believe."
Warren said, in The Orange County Register interview, that he has not spoken with Romney about the issue of religious freedom, "but I would imagine that as a Mormon he'd obviously understand the importance of protecting all religions against persecution, and ensuring people's rights to practice their conscience without government intervention."
The Church of Jesus Christ of Latter-day Saints has been the target of religious persecution in the United States. Mormons fled to Utah in the 1840s after the church's founder, Joseph Smith, was murdered for his unorthodox beliefs.
In 2008, Warren hosted a forum between the two presidential candidates, Sen. John McCain and then Sen. Obama. Warren was widely praised for the civil tone and for asking interesting and probing questions that were not asked at other debates. The candidates spoke about their faith, their personal failures and their views on abortion and marriage.
Warren said last month that he was working with both campaigns to set up a date for the forum and they were looking at a possible date this week.
The purpose of the forum, Warren told Fox News at the time, was "to promote social civility so that people with major disagreements [can] talk without beating each other up."