Rick Warren: 'You Can't Please Everyone'
Megachurch Pastor Rick Warren knows he can't please everyone and he's completely fine with that. In a recent sermon, he explained why Christians, including himself, can't be people pleasers because living for God's approval is more important than popularity.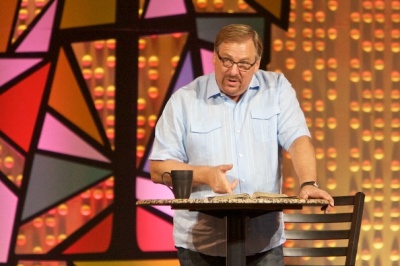 Although the "desire to get approval from other people is not a bad thing, like all of God's gifts, what is a legitimate need in your life can be misused," said Warren, during last weekend's sermon, "You Can't Please Everyone," at Saddleback Church in Lake Forest, Calif.
"One day I will have to give an account of my life to God and that is an antidote (for everyone) for people-pleasing," he said. "You will find yourself in a situation where you have to ask, 'Am I going to please God or am I going to please this person?'"
Warren, who admitted that he likes to be liked (as most people do), said the toughest tests in life for him have been when he has come under close scrutiny during media interviews. Often he is challenged by the interviewer to reveal whether he is politically correct of socially acceptable, he said.
Questions about whether non-believers go to hell, whether homosexuality is a sin, or if Jesus is the only way to heaven are asked to see if he waivers from biblical truth, he said.
"I have been interviewed for lots of TV shows and broadcasts that went internationally and in those broadcasts they will ask me the toughest questions possible, the most incendiary, the most politically incorrect. They want to put me on the spot, make me [appear] that because I believe a certain thing that I'm a bigot, or I'm a this or that. And they are intentionally trying to have me back down off of what the Bible says," Warren explained.
"When I'm asked those kinds of questions my human nature wants to be liked, wants to punt, wants to not to tell the truth," he continued. "In those moments when I could say something that is politically correct and wouldn't ruffle feathers, but would be a lie, I remember these truths, and in that pressure moment I do three things."
Warren said, "First, I remember what Jesus Christ did for me on the cross … He didn't deny me … He died for my sins … I remember that one day I'm going to give an account to God and at that point God is going to say, 'What did you say in that interview? What did you say in that conversation at work? What did you say to your friends at school?' And I remember that integrity is important and I'm not going to give up my integrity. So I tell them the truth and I let the chips fall."
The sermon is part of an ongoing series, "You Make Me Crazy," about the "crazymakers" in people's lives. Warren has extended the series through the end of July because of positive response from the congregation.
The "crazymaker," in the case of the sermon on people pleasing, is ourselves, said Warren.
He quoted Jesus from verse John 5:41 in a translation that reads: "Your approval or disapproval means nothing to me."
"One of the things Jesus sets us free from is the expectation of others," Warren said. "If you are looking to any human being to meet your needs you are going to be severely disappointed because nobody can meet all your needs. Only God can meet all your needs. You better put your happiness in somebody and something that cannot be taken from you and that is your relationship to Jesus Christ. You need to look to God."
Warren listed six things to remember when struggling with excessive people-pleasing:
1. Even God can't please everybody.
2. I don't need anyone's approval to be happy.
3. What seems so important now is only temporary.
4. I only have to please one person – God my creator.
5. One day I will give an account of my life to God.
6. God shaped me to be me.
Controversy over Warren's theology peaked earlier this year when detractors said that he believes Muslims and Christians worship the same God, has partnered with Southern California mosques and has agreed not to evangelize Muslims.
In response to the controversy initially fueled by a local paper's article, Warren issued a three-page exclusive statement to The Christian Post titled "Muslims, Evangelism and Mission," which asserts that Saddleback Church is preaching Jesus Christ as Savior and a Triune God, not the same view of God that Islam teaches.