Rick Warren: If You Want to Change Your Life, You Must Learn to Think Differently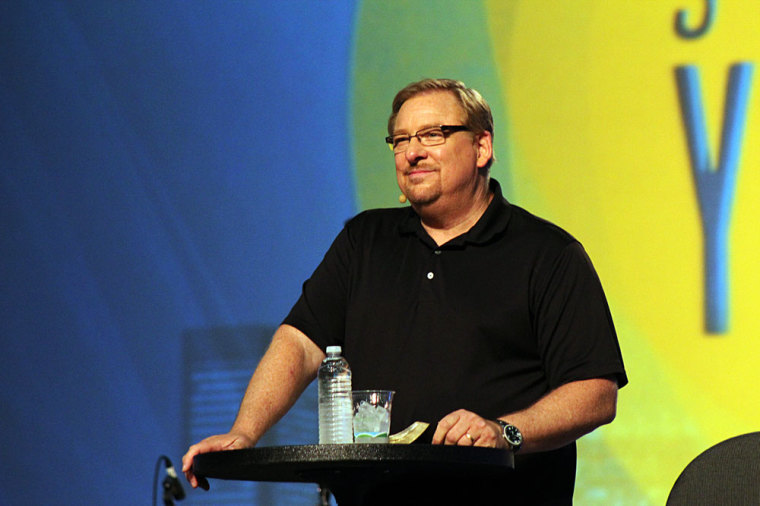 People often want to change themselves, but what they need to do first is change the way they think, says Saddleback Church Senior Pastor Rick Warren.
In a devotional published Thursday, Warren addressed the issue of repentance and how it requires not only a change in action, but also thinking.
Specifically, Warren quoted from Paul's Epistle to the Ephesians, chapter 4, verse 23: "Let the Spirit renew your thoughts and attitudes."
"Change requires new thinking. In order to change, we must learn the truth and start making good choices, but we also must change the way we think," wrote Warren.
"If you want to change the way you act, you start by changing the way you think. In addition, if you want to change the way you feel, you must start with the way you think."
Warren went on to describe the concept of repentance as what happens when the believer needs to take a "mental U-turn."
"Repentance is about more than changing your behavior. It is about changing your mind and learning to think differently," continued Warren.
"You turn from guilt to forgiveness. You turn from frustration to freedom, from darkness to light, from hatred and bitterness to love."
This is not the first time this year that Warren has centered a devotional on the question of change and how to properly go about it.
Back in April, Warren emphasized "the physical" as part of the changing process, arguing that for change to occur in the "financial, vocational, educational, mental, or relational" areas of life, "you have to begin with the physical."
"Why? Because your body affects your behavior. Your muscles affect your moods and your motivation. Your physiology can actually affect your psychology," he added.
"No matter what kind of change you want to make in your life, it will require energy. To have the energy to meet your goals, change has to start with your body."
Warren had some personal experience with this, as the overweight pastor lost 60 pounds in 2011 as part of a congregationwide weight-loss challenge.
"God cares about everything in your life. He cares about the body, soul and spirit. Jesus went into every village — preaching, teaching and healing," said Warren regarding the challenge.
"Preaching involves our soul. Teaching involves our mind, and healing involves our body. If our body is the temple of God's spirit, then we had better give him a healthy temple."