Rick Warren: Change Your Body if You Want to Change Your Life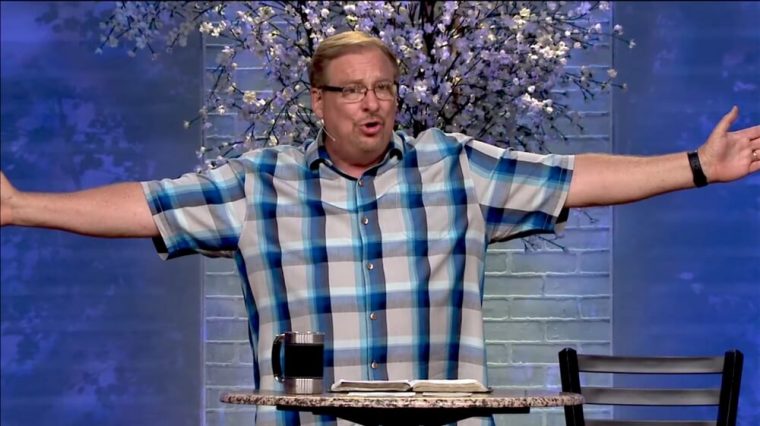 For Christians to experience change in their life, they need to start with changing their body, evangelical pastor Rick Warren wrote in a devotional this week.
The founding pastor of the 32,000-member Saddleback Church in Orange County, California wrote that any change, whether it be "financial, vocational, educational, mental, or relational," begins with the physical because "your body affects your behavior."
"Your muscles affect your moods and your motivation. Your physiology can actually affect your psychology," Warren writes, pointing to Romans 12:1, which calls on Christians to offer their bodies as a living sacrifice to God.
To offer yourself to God and achieve change, you need discipline and commitment, Warren continues. "We offer ourselves to God, and then we take ourselves back. This is not a once-for-all offer. You've got to do it four, five, or maybe 10 times a day!"
There are three guidelines to follow when physically changing yourself, Warren continues, including cleansing your body, caring for your body, and controlling your body.
Quoting Ephesians 5:29, which calls on Christians to care for their body just as Christ cared for the church, Warren encourages readers to stay in shape because it is "an act of worship to God."
Christians must also practice self control, Warren adds. "There is no reason to say, 'I couldn't help myself!'"
"No matter what kind of change you want to make in your life, it will require energy. To have the energy to meet your goals, change has to start with your body," Warren concludes.
In 2011, Rick Warren led Saddleback Church in a weight loss challenge and about half of the megachurch, or 15,000 people, participated. Collectively, the church loss more than 250,000 pounds and Warren lost 60 pounds after the first year.
Warren had shared when introducing the church's weight loss initiative, that he had realized in November 2010 he needed to lose weight when he baptized more than 800 people and immersed thousands of pounds of weight into the water, "I had a thought – it wasn't spiritual – that we are all overweight. Then I thought, 'I am overweight. I am a terrible example to our people.'"
"God cares about everything in your life. He cares about the body, soul and spirit. Jesus went into every village – preaching, teaching and healing," Warren had said. "Preaching involves our soul. Teaching involves our mind, and healing involves our body. If our body is the temple of God's spirit, then we had better give him a healthy temple."
Saddleback Church used the Daniel Plan, a fitness program Warren collaborated on to design with cardiac surgeon Dr. Mehmet Oz, brain expert Dr. Daniel Amen, and metabolism expert Dr. Mark Hyman. Participant of Saddleback's weight loss plan promised to avoid sugar, white bread, white rice, pastas, white and wheat flour, hydrogenated fats or oils, caffeine and processed food.
In 2013, Rick Warren co-authored the book The Daniel Plan: 40 Days of a Healthier Life with Dr. Amen and Dr. Hyman. While promoting the book, he said in an interview:
"There's a verse in the Bible that says Jesus went into every village preaching, teaching, and healing. I say that preaching is evangelism; teaching is education; and healing is health care," said Warren, during an interview with Parade Magazine. "Jesus didn't only care about getting people into heaven. He cared about spirit, mind, and body. To me, health care isn't simply helping the sick get well, but helping the well not get sick."
The influential megachurch pastor has discussed the topic also in May 2014, when he wrote that taking care of your body is a "step of faith," much like Peter trusting God that he could walk on water in Matthew 14.
"Taking care of your body is a spiritual discipline, like prayer, worship, or Bible study," Warren writes. "Before you ever start your journey of getting healthy, you need to realize that it's a step of faith."
"Like Peter stepping out of the boat, every step you take toward better health increases your trust in God. Every step helps you expect the best from him," the pastor says.
There are three "incredible" truths Christians should remember about their body, Warren continues, including that God made your body, Jesus died for your body, and the Holy Spirit lives inside of your body.
When contemplating these truths, Christians can begin to care for their body on a higher level of understanding and faith, rather than just for health reasons.
Rather, Christians can view their body as a temple: "If you're a Christian, the Bible says your body is God's temple and that the Holy Spirit lives in you [...] Good health is one way you take care of God's temple. You'd never let your church building get into poor shape, and God wants you to think of your body in the same way."
"Knowing the truth about your body makes acting on that truth a step of faith. It means you're no longer getting healthy just to live a few more years, fit into a particular item of clothing in your closet, or look more physically attractive. You're getting healthy as a way to worship God," Warren writes.