Rick Warren: Christians Can Accomplish More for the Glory of God If They Work Together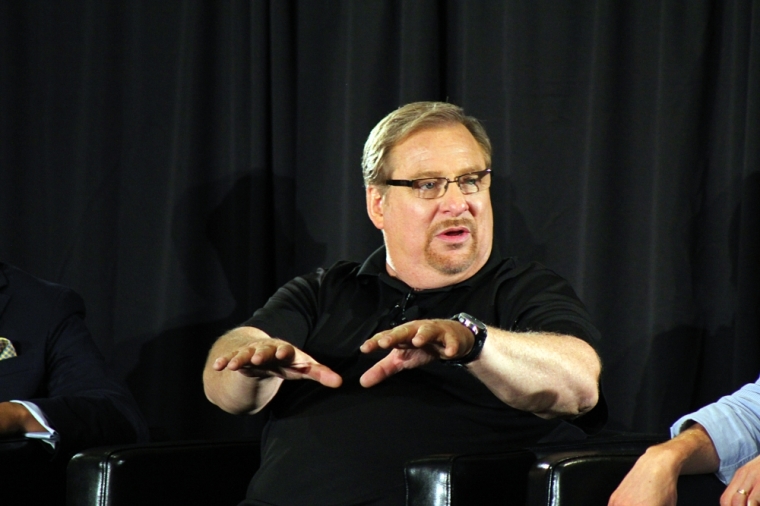 Christians can accomplish more here on Earth when they work together, said Pastor Rick Warren who advises believers to follow God's plan found in the book of Ecclesiastes.
Warren, who heads Saddleback Church in Orange County, California, wrote in his Daily Hope blog post Tuesday that God intended for Christians to do their work as a team, not alone.
"God put us on Earth to do a certain work that only we can do. Ephesians says that God made us to do good works and that he planned in advance what we would spend our lives doing. However, he didn't plan for us to do that work alone. We need people to work with us," Warren explains, citing Ecclesiastes 4:9 that reads: "two people are better than one, because they get more done by working together."
The megachurch pastor then uses the analogy of a snowflake, explaining that snowflakes can have a larger impact if they all join together.
Warren adds that the work done here on Earth is actually practice for the work Christians will do in eternity.
"Did you know that when we work together here on Earth, we're actually practicing for eternity? In Heaven, we will all have to work, but each of us will have just a small piece of work, so we'll never get overloaded or tired. Though no one will carry a heavy burden as each one of us does our small part, all the work will still get done," Warren writes.
"As you walk through life, remember that you're not supposed to do everything on your own. You need other people to walk alongside you, but you also need other people to work alongside you. As you share the burden of your work with fellow Christians, you'll find that you actually accomplish more for the glory of God," the megachurch pastor adds.
Warren has spoken on the importance of teamwork before, writing in May 2014 that success depends on hardwork and teamwork.
"Success is never a one-man job; it takes teamwork," Warren wrote. "God wired it this way because the most important lesson he wants you to learn here on Earth is to love people. Not only that, there are some things in your life that you will never be able to change without the support, prayers, and encouragement of other people."
"The stronger your team is, the more you can fulfill your dream," the megachurch pastor said.
Warren added in a 2015 post that Christians need the support of others to successfully fulfill God's call to serve.
"We need each other to serve. Nobody has all the talents. Nobody has all the gifts. God did it that way intentionally so that you would need me and I would need you and we would need each other," the megachurch pastor wrote, citing Romans 12:5 which reads: "Each of us finds our meaning and function as a part of [Christ's] body. But as a chopped-off finger or cut-off toe we wouldn't amount to much, would we?"