Rick Warren: Put God First in Areas of Your Life Where You Need a Blessing
Rick Warren: Put God First in Areas of Your Life Where You Need a Blessing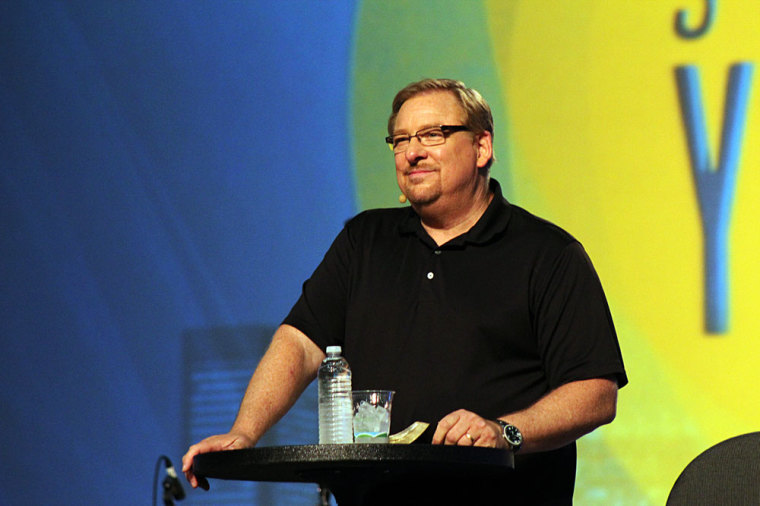 Saddleback Church pastor and best-selling author Rick Warren says that believers need to place God first when managing their finances.
In a devotional published last Thursday, the author of The Purpose-Driven Life explained that whatever area "you want God to bless in your life, you put Him first in that area."
"You want God to bless your business? Put him first in your business. You want God to bless your marriage? Put Him first in your marriage," wrote Warren.
"You want God to bless your time? Put him first in your time. You want God to bless your finances? Put him first in your finances."
Warren further noted that tithing is a means of putting God first in the area of finances, adding that "God wants you to give, and He wants you to save."
"If you tithe 10 percent and save 10 percent, that means you live on 80 percent of your income. Let's say your family income is $60,000 a year and you started this plan at age 40. Over the next 20 years, by age 60, you will have given $120,000 to God's purposes in the world and you would still have more than $120,000 set aside in your investments or your savings," continued Warren.
"It may mean big changes for your family. It may mean you make sacrifices and give up some things. But it works! There are enormous payoffs. God will always honor the areas where you put Him first."
This is not the first time that Warren has addressed the issue of financial advice. During the fall of 2011, Warren preached multiple sermons on financial stability amidst a time of recession.
"We are now three years into a major recession. There are more people out of work right now than ever in our lifetime. There are more people underneath the poverty line than ever in America. More people are classified as legitimately poor than ever before," stated Warren in 2011.
"The Bible is literally filled with advice on how to get out of debt, how to stay out of debt, how to prosper, how to have financial stability, and how to save and spend."
According to a 2013 study by Brian Kluth of Maximum Generosity, people who tithe are more likely to be financially stable than non-tithers.
"Never before has this group been studied, and I think for every pastor and church leader and parachurch leader it would be valuable if they understand this," said Kluth to The Christian Post back in 2013.
"We're in the midst of a 40-year decline in the percentage of Christians who give, and we need to see a generosity movement in America, that Christians re-embrace generosity as a spiritual value, but not for the sake of the church budget, but because of the Bible. Churches have made giving all about the budget, and it's not about the budget, it's all about the Bible."