Rick Warren Reports Double Rise in Saddleback Easter Attendance, Hundreds Turning to Christ in Tears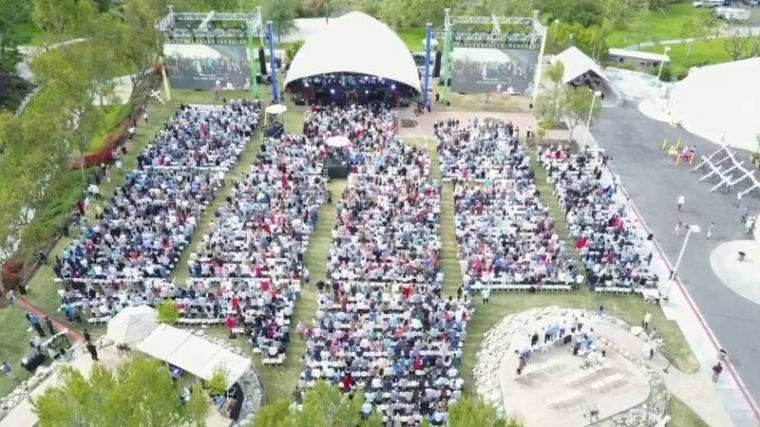 Pastor Rick Warren has said that his Saddleback Church in California drew more than double its attendance from its first two Easter services compared to last year, with hundreds of people "giving their lives to Jesus."
"After just two services (Thursday and Friday evenings) where I taught 'He Did It All For You- Part 1' 296 new people have given their lives to Jesus for the first time! These are friends and co-workers brought by Saddleback members who made the effort to invite them to an Easter service," Warren shared in a Facebook message on Saturday.
"Be sure of this: The Bible says that in Heaven these members will be rewarded for eternity by Christ for caring enough to invite unbelievers."
The megachurch pastor revealed that the total attendance for the first two services alone was 14,400.
"That's more than DOUBLE the attendance we had last year at our first two Easter services on Thursday and Friday. Including all our campuses, we'll have around 60 Easter services including the launch of Saddleback en Español, and a new extension in the Great Park area of Irvine," he added.
Warren said that all Saddleback campuses reported increased attendance and growth over the last year, and attested that besides the impressive numbers, he has also seen real impact on people over Easter.
"Last night, as I walked around after the service, I saw many people sitting and chatting with friends who had just given their lives to Christ! They were celebrating, often with tears of joy," the pastor wrote.
Saddlback Church is frequently featured near the top of lists ranking the largest megachurches in the U.S., with average attendances of over 22,000 per week.
"The church he founded remains one of the five largest in America, but Pastor Warren's influence expands way beyond Saddleback," Newsmax's list of top 50 megachurches in America described back in 2015.
"His book, Purpose Driven Life, is second only to the Bible in non-fiction best-sellers; he was recently the subject of a major motion picture; he's trained hundreds of thousands of church leaders in every nation in the world; and he's on the speed dial of presidents, prime ministers, rock stars, and celebrities," it added.
In a video message a few days before Easter, Warren said the holiday has become "particularly personal and poignant" for him, since it was three yeas ago that his 27-year-old son, Matthew, took his own life.
"He had battled mental illness since [he was a] child, and despite the best doctors and meds and prayers and love, he lost his battle for hope on Easter week. Our family was devastated. The day Matthew gave in to despair was the worst day of my life," Warren said in the message.
"During the past three years I have since talked with hundreds and hundreds of individuals and families who are struggling with depression. I have often been asked 'How have you made it, how have you kept going in your pain and grief?' The answer is truthfully: the mercy of God," the pastor explained.
"God's mercy has sustained me, and my wife, Kay, and our entire family through the darkest of days."
He said that Easter would mark part one of his new series called "The Miracle of Mercy," which he described as one his most important sermons yet.
"What you learn may save your life or a friends' some day," he said.