Rick Warren Reflects on Son's Suicide as He Prepares for Most 'Important, Life Changing Series I've Ever Taught'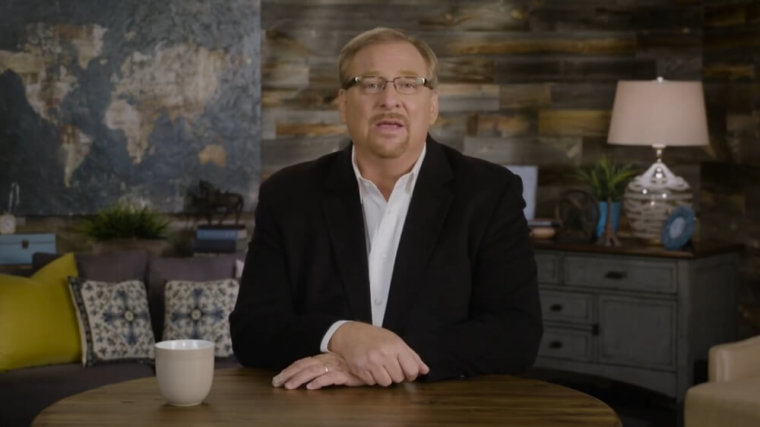 Pastor Rick Warren of Saddleback Church says he's preparing for the most "important and life-changing" series he's ever taught, which will focus on God's mercy, as he reflects on the darkest day of his life nearly three years ago when his 27-year-old son took his own life.
"Easter has become particularly personal and poignant to me in the past three years, because five days after Easter three years ago, my 27-year-old son ended his own life," Warren said in a video posted on Facebook Sunday, talking about his son, Matthew.
"He had battled mental illness since childhood, and despite all the best doctors and the best medicine, therapy, and prayers, and love, he lost his battle for hope on Easter week. And Our family was devastated. The day Matthew gave into despair was the worst day of my life," the pastor added.
Warren said that he and his wife, Kay, have since talked with hundreds of other families also facing deep depression, but said that whenever people ask him how his family continues to pull through, he turns to God's mercy.
"God's mercy has sustained me, and my wife Kay, and our entire family through the darkest days," he said.
He revealed that the upcoming Easter events at Saddleback will mark part one of a new sermon series he is embarking on, titled "The Miracle of Mercy."
"It may be the most important, the most life-changing series I have ever taught. And I hope you will join me as I honestly share how to get through the worst days of your life, by depending on the mercy of God."
Warren reflected on the three days of Easter, noting that Friday and Saturday are characterized by pain, misery and confusion, but Sunday is a day of joy and celebration.
He said that people face such cycles throughout their lives, and often ask three fundamental questions: "What do I do in my days of pain? How do I get through my days of doubt and confusion? How do I get to the days of joy and victory?"
The megachurch leader said that the answer to all three questions is by "receiving God's mercy."
He shared that there would be no fewer than 57 Easter services across Saddleback's numerous churches in California and across the world, and is inviting people to come visit, noting that there will also be live streaming online for those who live too far away.
Warren has talked openly about his grief and struggles over his son's suicide on a number of occasions, sharing earlier this year that he still grieves about it every day.
"Suicide is a permanent, irreversible attempt to solve a temporary problem. It is not a wise solution. You don't have to die to end your pain," Warren said back in February, comparing the act of suicide to "using a nuclear bomb to wipe out a nest of mosquitoes."
"It's irreversible and it'll do far more damage than you possibly realize and it will affect many other people besides yourself."