Rick Warren's Saddleback Church Becomes First in US to Baptize 50,000 People; Pastor Hails 'Miracle'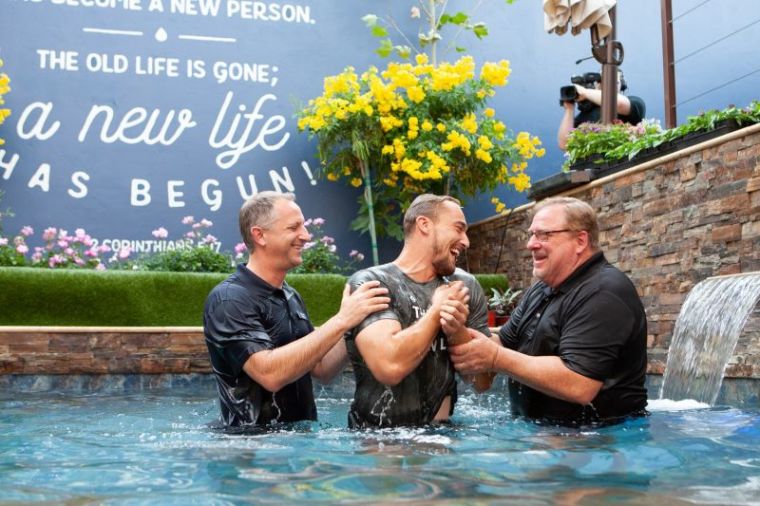 Pastor Rick Warren has hailed the congregation at his California-based Saddleback Church as it became the first in U.S. history to baptize 50,000 people.
"I never stop being amazed by you. You are extraordinary people, and I continually thank God for what you mean to me," Warren stated in a letter to the people of the megachurch, shared Saturday on Facebook.
The pastor looked back over the 38 years of milestones that Saddleback has been achieving, such as becoming the first to grow to 10,000 in worship without owning a building, and the first to send the Gospel to all 197 officials nations in the world.
This weekend marked another major milestone, as the 50,000th person was baptized into the faith at Saddleback.
"Imagine all the amazing personal stories of changed lives behind that number! 50,000 individual lives transformed by Jesus since Saddleback Church began. This is unprecedented in history! YOU are likely one of those stories of a changed life!" read Warren's letter.
The best-selling author said that "love" is the main reason why the church has been so successful.
"YOU genuinely love people and you want them to go to Heaven with you! Every day, you bring your friends, co-workers, and family to Jesus," he said.
"Honestly, I've never seen a group like you anywhere else in the world. I'm humbled to be your pastor, and I could not be more proud of you."
Warren revealed that all 50,000 people who have been baptized at Saddleback over the past 38 years were recognized over the weekend, with people bringing photos of their ceremonies to be shared.
The California preacher recalled his small town and small church upbringing, and how he was inspired by the large ministries of other Christian leaders to dream of big things.
He also reflected on growth of the first Christian church in Jerusalem, pointing to Acts 2:47 in the Bible, which reads: "Everyday the Lord added to their number those who were being saved."
Warren wrote: "Think about that. Daily! That means, at the very least, the first church baptized at least 365 new members annually!"
"Not many churches have ever matched that kind of growth. But YOUR CHURCH has!" he added.
"This phrase 'Every day the Lord added to their number' has been true of Saddleback for 38 years. Since beginning at Easter, 1980, we've baptized almost 4 changed lives every single day. (Precisely 3.7 people every day) YOU'RE PART OF A MIRACLE!"
Some who were baptized by Warren talked about their experience in an article with Newsmax.
"I don't know how to describe it," said 51-year-old Irvine resident Irene Anderson. "It's very special, very different, very gentile. (Warren) is just looking at you with love. I feel like Jesus is in him and he's in Jesus. It was a great experience. I felt I really had a connection with God, like a strong bond."
The Saddleback Church Twitter account added in a message of its own on Sunday:
"50,000 lives and counting. Each of these lives represents an individual changed by and committed to a relationship with Jesus Christ. We are in awe of what God has done in the last 38 years and are hopeful and expectant for what he will do in the years to come. Thank you, God!"
On his website, Warren further explains the importance of baptisms in the Christian community.
"Baptism by immersion symbolizes the death, burial, and resurrection of Jesus and is your public declaration that you have accepted Jesus Christ as your personal Savior," a statement notes.
"Baptism does not save you, but shows the world that you have already been saved. And while baptism is not required for salvation, it is a biblical command and demonstrates your love and obedience to Christ."