Rihanna Mocks Chris Brown and Karrueche Tran's Relationship?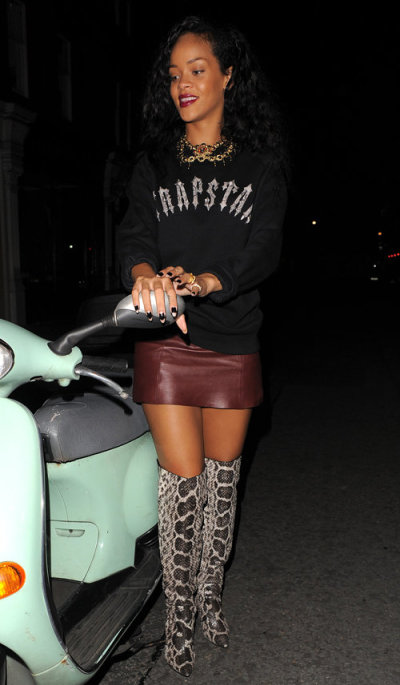 Rihanna recently tweeted a quote that distinguished real and fake relationships and fans believe that she may be taking a dig at her ex-boyfriend Chris Brown's relationship with Karrueche Tran.
The singer admitted that both she and Brown, 23, have maintained a close bond since breaking up in 2009 which reportedly upset Tran, 24, his current girlfriend. In the same interview with Oprah, Rihanna also revealed that she and Brown still love each other, which critics believe prompted her to allegedly criticize his relationship with Tran.
"There's a difference between having a real relationship and just being together because that's all you're used to. There's a difference between meaning your 'I love yous' and just saying them every night because 'that's what you do'. There's a difference between being together and wanting to be together. It's a relationship, not a routine," Rihanna tweeted on Sept. 4.
Tran, a model, has been dating Brown for almost two years and she was reportedly stunned and reduced to tears after watching Rihanna tell Winfrey that she and Brown have rebuilt trust and that they often spend quality time together alone.
"If Karreuche ever thought she stood a chance being Chris' main b----, she can forget that now. She watched Ri on Oprah and the girl was crying. She saw how much Chris and Ri love each other, on TV no less, and it made her shed some tears," a source close to the situation told HollywoodLife.com.
"Chris always told her Rihanna was his true love and now Rihanna told the whole world that too. Man, you would think K.T. would be in a bad place right now. I mean, she is because she's crying. Make no mistake, KT know what time it is and she know where she stands in my [boy's] life. Even though she ballin' her eyes out, she knew this from jump street," the source added.
Although Rihanna, 24, insisted that she and Brown are just friends during the same interview, various critics believe that there is likely something more going on and his mom recently posted a series of cryptic tweets that only fueled the speculation.
"TELL THE TRUTH AND SET YOURSELF FREE," Brown's mom, Joyce Hawkins tweeted later posting "NOT UNTIL YOU TELL THE TRUTH WILL YOU EVER BE FREE!!!!!! PEACE SOMETIMES COMES WITH A PRICE."
Rihanna 'Still Loves' Chris Brown, Pair 'Very Close' Despite Karrueche Tran (VIDEO)