Rihanna Tweets Response After Being Fired by Nivea
Rihanna was recently fired as the face of global skin care company Nivea after the company's new CEO deemed her to be too risqué to represent their products.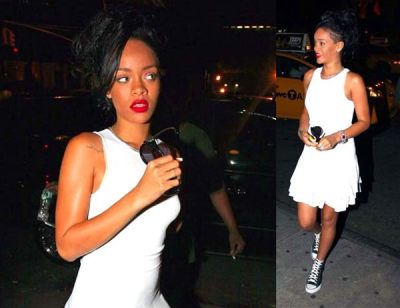 Stefan Heidenreich, who was recently appointed as the new CEO of Nivea's parent firm, Beiersdorf, said that the Bajan singer's wild image is inconsistent with Nivea's family values.
"Rihanna is a no go, I do not understand how to bring the core brand of Nivea in conjunction with Rihanna. Nivea is a company which stands for trust, family and reliability," Heidenreich told German media before adding that Rihanna's prior ads should have never aired.
Rihanna, 24, then responded to the head honcho's statements by posting his photograph on social networking site Twitter alongside the caption "No caption necessary." At least 400 of her 23 million followers retweetted the photo.
Some media outlets have suggested that the "Where Have You Been" singer may have lost up to $25 million over the firing, although these reports could not be verified.
Fans of Rihanna flocked to Twitter after news of her firing broke, and while some were disappointed, others were not surprised.
"So Nivea drops @rihanna as brand ambassador.Guess the #GoodGirlGoneBad is obviously not going so good," Ajuka Chilli Rose tweeted.
"Bummed Nivea dropped Rihanna as their spokesmodel. She better clean up her act before jayZ refuses to back her and she loses endorsements," one follower with the username "Around the way girl" tweeted.
"Oops looks like Rihanna's out! I'm sure she'll do fine without them though," Rosalind Skellorn posted.
This is not the first time that the singer has been publicly criticized for her behavior. In November, The Ulster Cancer Foundation (UCF) labeled her "irresponsible" for glamorizing smoking in her "We Found Love" music video.
"Three-quarters of adult smokers start the habit as teenagers, which is why it is so irresponsible of Rihanna to influence her young fan base in this way," UCF Cancer Prevention Officer Doreen Reegan said in a statement.
Just weeks prior, she endured backlash while filming the video for the hit song when local Christian farmer, Alan Graham, demanded that filming stop and Rihanna cover up after he witnessed filming take place near his backyard.
Graham blasted Rihanna's behavior and skimpy clothing as being "inappropriate," and the singer allegedly apologized for the incident.
Nivea Claims Rihanna Is Too Sexy for Their Line