Riva Tims Drops Lawsuit Against Zachery Tims' Fla. Church (VIDEO)
Riva Tims, the ex-wife of late Pastor Zachery Tims, is dropping plans to sue New Destiny Christian Center's board of directors over its installation of Paula White as the church's senior pastor.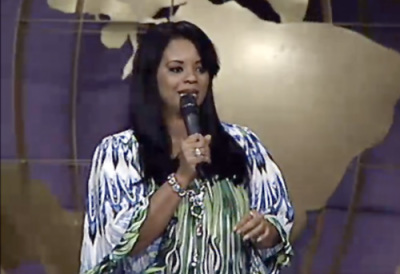 In a statement posted on her Facebook page Monday, Tims admitted that, legally, she is not able to file the suit, because she previously "released my rights to file a complaint against NDCC."
"After careful review of my amended MSA (2009); my attorney Robert Gibson discovered on December 30, 2011 that I released my rights to file a complaint against NDCC. Therefore by the advice of Mr. Gibson I withdrew the suit. My heart's desire is that God perfects all that concerns us," Tims wrote, apparently referencing documents she signed upon her divorce from Zachery Tims and departure from NDCC.
She added, "I know as the Mother of Zoelle, Zachery, Zahria and Zion as well as the spiritual Mother to many that were birthed at New Destiny that I had a spiritual obligation to let my voice be heard. And our voices have been heard nationally. The righteousness we have been taught will continue to sustain us in this process. We are assured that truth will prevail – God is in Control!"
Tims insisted that she would "continue to fully support my NDCC family in every effort to manifest the Spirit of Truth."
The turnaround comes after Tims announced at a Dec. 29 press conference that she had filed a lawsuit against NDCC over the board of directors appointing Paula White, co-founder of Without Walls International Church in Tampa, as the new senior pastor.
Tims said that NDCC's decision is depriving her four children of their lawful inheritance and suggested that under the leadership of an outsider, the Apopka, Fla., megachurch will lose its original purpose.
"I believe that I have an obligation to let our voice be heard," she said last week. "That obligation is being fulfilled. The voice of the Tims' family and many New Destiny Christian Center members is being heard nationally."
NDCC was founded in 1996 by Riva Tims and her ex-husband, Zachery, who died in New York in August. She claims she is the only pastor entitled to lead the congregation spiritually. She has referred to herself on multiple occasions as the church's "spiritual mother."
Tims is currently the senior pastor of Majestic Life Ministries church in Orlando, which she founded after her divorce in 2009.
In her latest statement Monday, Tims thanked her followers for their support and prayers in the row over the leadership of NDCC.
Some NDCC congregants have been voicing their strong support for Tims over White, a charismatic televangelist and TV personality. Some church members held a rally calling for Tims to be made the church's pastor before the official appointment of White was announced last Thursday.
Still, upon holding her first service in the Apopka, Fla., church Sunday, White was reportedly well received, with worshippers signaling acceptance of their new senior pastor.
The Christian Post Daily Report 01.03.12