Riva Tims: Paula White's Appointment Process Was 'Illegal' and 'Deceptive' (VIDEO)
Zachery Tims' ex-wife, Riva Tims, has called the selection process for a new senior pastor at New Destiny Christian Center "negligent and illegal" as well as "deceptive" in a recent Facebook post.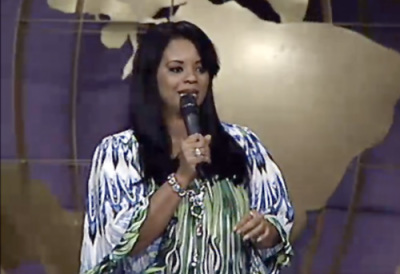 Days after Paula White was announced as the new pastor, Tims wrote on Saturday, "My complaint against NDCC board is and always has been an issue of the alleged negligent and illegal process NDCC's board used to select a new pastor.
Tims, pastor of Majestic Life Ministries in Orlando, said NDCC's decision is depriving her children of their lawful inheritance (their father's church) and suggested that under the leadership of an outsider, the Apopka, Fla., will lose its original purpose.
"My concern, as the mother of the children of the late Dr. Zachery Tims Jr., Zoelle, Zachery III, Zahria and Zion Tims is that they will never have an opportunity to receive the inheritance their father left for them," Tims wrote. "As the co pastor to many that were birthed into the Kingdom of God at NDCC my concern is that the legacy and vision of NDCC will be abandoned."
"I believe that I have an obligation to let our voice be heard," she added. "That obligation is being fulfilled. The voice of the Tims' family and many New Destiny Christian Center members is being heard nationally."
NDCC was founded by Zachery and Riva Tims in 1996. When the pair divorced in 2009, Riva Tims left the church to found her own ministry, Majestic Life Ministries.
Paula White's First Sermon as Tims' Successor
Two years later, Zachery Tims was found dead in a New York hotel in August 2011 and his cause of death has yet to be publicly revealed. It is believed drugs may have involved, but Tims' mother has launched a court battle to keep the cause of his death private.
The appointment of White as NDCC's new senior pastor was announced last Thursday morning, after weeks filled with speculation over who would take over the Florida megachurch.
That same day, Riva Tims publicly announced that she had filed a lawsuit against NDCC over the leadership decision. The church's board of directors responded with a statement of its own, saying: "Obviously, we are saddened by the course of action Pastor Riva Tims as chosen to pursue. Her lawsuit is completely without merit and we are extremely confident in our legal standing."
"In the wake of her divorce from Pastor Zachary Tims in 2009, Pastor Riva willingly signed legal documents releasing all claims over New Destiny Christian Center and left our church to begin her own ministry, literally just a few miles away. So we are surprised to hear her now say, three years later, that she should become Senior Pastor of New Destiny Christian Center," the statement read.
But Tims has hit back at the board's claim, vowing to stand her ground.
"I signed a Marital Settlement Agreement in 2009. The document is over 30 pages including an addendum," she wrote on Facebook Saturday. "There is one sentence that excludes me from filing a legal complaint against the Board of New Destiny Christian Center. Of course, this was signed while Dr. Zachery Tims, Jr. was alive when there would never be a reason for me to file a complaint against NDCC. This can be challenged in a court of law but our desire is not to lose focus of our eminent goal to expose any possible deception of the NDCC board in their selection of the new pastor."
Those who truly knew Zachery Tims would support her, Riva Tims suggested.
"I stand in righteous indignation on behalf of him and my children," she also emphasized. "Though I am unable to present the case in a court of law, II Timothy tells us that God is THE Righteous Judge and I declare He is on our side. I will fully continue to support my New Destiny Christian Center family in every effort to manifest the Spirit of Truth."
Some NDCC congregants seem to be in support of Tims. Even before the decision of appointing White, the charismatic televangelist and co-founder of Without Walls International Church in Tampa, Fla., was officially announced, NDCC members held a rally calling for Tims to be made the church's pastor.
"I am praying that your children receive what is rightfully theirs. My husband and I were members of New Destiny when we lived in Orlando in 2007. Pastor Zach would not have wanted this to happen coming from the board. He would want you and his children to have that inheritance. Stay strong and be encouraged. The victory will be yours!" one of Tims' followers commented in response to her Facebook statement.
White, who was welcomed during NDCC's New Year Day service this weekend, co-founded Without Walls with her then-husband, Randy White. It was unclear how White would manage both NDCC and Without Walls, where she also serves as senior pastor.
According to a recent report, a 2006 audit found that White's Tampa church was experiencing financial difficulties and was millions of dollars in debt. The church's second Florida location was reportedly shut down due to missing payments.
Calls to Without Walls International Church and Paula White Ministries have not been returned.