Robert Jeffress: Christian Refugees Should Be Given Preference Over Muslim Refugees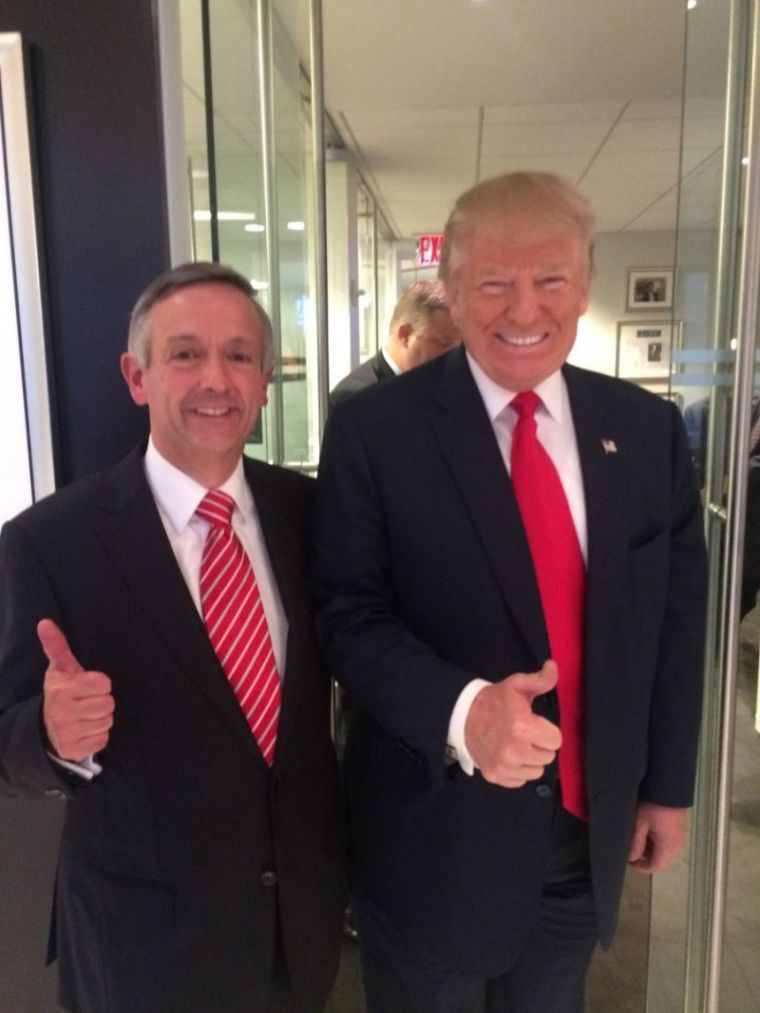 Pastor Robert Jeffress of First Baptist Church in Dallas, Texas, has backed Donald Trump's National Prayer Breakfast speech on Thursday, where the U.S. president vowed to stop terrorism, the "unimaginable violence" carried out in the name of religion, and to save Christian refugees.
"We have seen unimaginable violence carried out in the name of religion," Trump said on Thursday as part of his speech. "Horrors on a scale that defy description."
"Terrorism is a fundamental threat to religious freedom. It must be stopped, and it will be stopped," he added.
Responding to those comments in an interview with FOX Business on Thursday, Jeffress said that he and Trump talked on the same subject a few weeks ago.
"He understands that Christianity is the most persecuted religion in the world," the pastor said.
"100 Years ago, the primary engine for the persecution against Christians was Communism. Today, it's Islam. Nine out of the top 10 nations persecuting Christians are Muslim majority nations, which is why President Trump is absolutely correct in giving preference to Syrian refugees who are Christians," he claimed.
Persecution watchdog groups, such as Open Doors USA, have been reporting on the rise of Christian persecution around the world for years.
The organization's latest World Watch List, which ranks the countries where Christians face the most severe persecution, does indeed point out that nine of the top 10 countries are Muslim-majority nations — with North Korea, at the very top of the list, being the only exception.
"They can't go to other Muslim countries, they face persecution there, and he is right to give preference to those refugees in our country," Jeffress added about the plight of the Christian refugees.
Jeffress participated in a debate on "Fox & Friends" on Sunday with Father Jonathan Morris, a Catholic priest in the Archdiocese of New York, over whether prioritizing Christians is actually the "Christian thing to do." Jeffress argued that it very much is.
The First Baptist Dallas pastor insisted that Trump is "exactly right in giving preference to persecuted minorities," and pointed out that "only one half of one percent" of Syrian refugees who were granted asylum in the U.S. under former President Barack Obama were Christians.
While Trump appeared to imply that Christian refugees would be given priority, in an interview with Christian Broadcasting Network, and he promised during his campaign to implement a temporary ban on Muslim immigration, nothing in the executive order specifically mentions Christians or Muslims, and the White House denied this week that the order is a Muslim ban. 
Open Doors has warned that prioritizing Christian refugees may not actually be the right move, however, and warned that it could lead to new dangers for the migrants.
"Expediting refugee entry for those intentionally targeted by ISIS, like the Yazidis and Christians and some Muslim groups, seems appropriate. However, cherry-picking one religion over another only exacerbates the already severe worldwide trend of religious persecution," said in a statement David Curry, president of Open Doors USA.
Curry called for a "need-based approach that treats all faiths equally and works toward the comprehensive strengthening of religious freedom around the world."