Robert Jeffress' First Baptist Church Labeled 'Mecca of Hate' by Anti-Trump Protest Organizer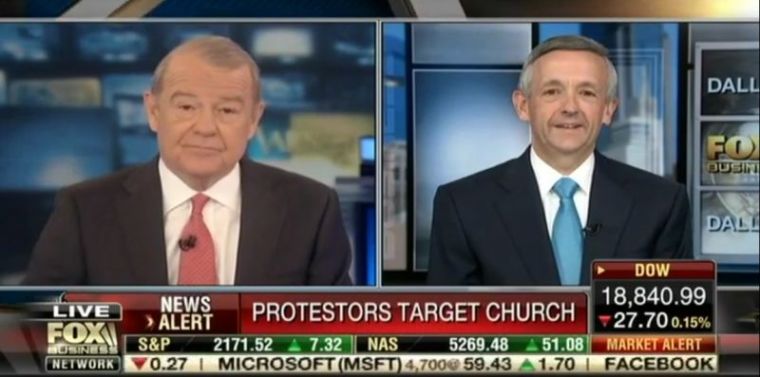 Pastor Robert Jeffress of First Baptist Church in Dallas, Texas, says demonstrators protesting outside his church are more opposed to Judeo-Christian beliefs than they are President-elect Donald Trump.  
During an interview on Fox Business on Tuesday, Jeffress said that following the results of last week's election, the church has seen demonstrators march to its doors with signs opposing President-elect Trump. 
The organizer of the Dallas protests, Dominique Alexander, has labeled the church "the mecca of the hate that lives inside Dallas." Alexander has a previous conviction of causing harm to a child and served time in jail for his crime. 
Jeffress suggested that the reason his church is being targeted is because he preaches about defending the traditional definition of marriage between one man and one woman, and has spoken out against same-sex marriage. 
The pastor also slammed what he calls the "hypocrisy of liberalism," and said that those who "cry for tolerance the loudest are usually the most intolerant when it comes to beliefs they disagree with."
Jeffress added, "My wife and I have many friends that are gay, and we welcome LGBT people to attend our church."
He further noted that what the demonstrates are actually protesting against is the Judeo-Christian position on marriage, which they claim makes most Christians "haters."
"These protesters, opposing me or our church, they're protesting the eternal Word of God, and guess what — they're not going to be successful in toppling the Word of God," he declared.
In an interview with Bill O'Reilly on Fox News Tuesday evening, Jeffress emphasized that while he has said that he personally supports Trump, he never preached his support from the pulpit.
The First Baptist Church leader reiterated his point that the church is not a "hate church."
"We are not the Westboro Baptist Church," he said, referring to the controversial group founded by Fred Phelps, which has no affiliation with the Southern Baptist Convention or any Baptist denomination. 
"We are a church that embraces the tenants of historic Christianity — there's nothing hateful about our members at all," he continued.
Jeffress said that First Baptist's members have respond to protesters by serving them coffee and donuts, and vowed that he has no plans to preach to the demonstrators in an effort to change their position. 
"The fact that what we believe about marriage — that it should be between a man and a woman — and that we're pro-life, somehow that becomes radical? Why is that? It's because our culture has changed. But the truth is, culture may change, people change, but the Word of God never changes, and that's what we rest our belief system on," he insisted.
Anti-Trump protests have flared up in cities around the U.S., including New York City, Washington, D.C., Portland, Chicago, Los Angeles and Oakland where thousands of protesters, some violent, have committed assaults, hate crimes, and burned and defaced small businesses, costing well over $1 million in property damage.
Trump has responded to the protests by accusing the media of a "double standard."
"If Hillary [Clinton] had won and if my people went out and protested, everybody would say, 'Oh, that's a terrible thing.' And it would have been a much different attitude. There is a different attitude. You know, there is a double standard here," Trump said in a CBS News interview.
Last week, Jeffress told Americans who did not vote for Trump that they should not be afraid of what is to come.
"No matter how you feel about the outcome of this election, I hope you will join me in praying for my friend, President-elect Donald Trump. For those who did not choose to vote for President-elect Trump, and may carry a measure of uncertainty about the future, there is no need to fear. And no reason to be discouraged," he said in his message.