Robert Jeffress on Revelation, President Obama's Role in End Times Prophecy and Motivating Christians to Share the Gospel (Part I)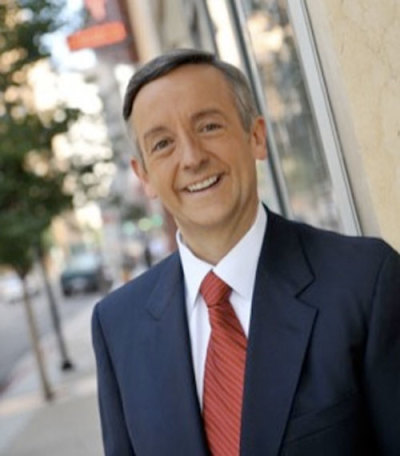 And when I wrote this book, I had to ask the question: How will the Antichrist be able to usurp such freedom without any opposition. And my answer is that people will have been conditioned to the giving up of their rights long before this final dictator comes. And I think you see that in President Obama.
You have to agree, whether you're for or against Obamacare, that the president has successfully seized control of one-sixth of the nation's economy, causing people to give up basic freedoms, like the freedom of the choice of a doctor and a health care provider.
Not only that, the president has launched an attack against God's own people unlike any president in history. Who would've thought a president of the United States would be going against a little group of nuns because they would not submit to the HHS mandate for contraceptives.
For the first time in U.S. history you've had a president who has proposed a change in one of God's most basic moral laws that marriage should be between a man and a woman. The president was able to do all of these things and still win re-election by a comfortable margin.
This is what I'm saying: The president is both illustrative of, but he's also preparing the way for the coming world dictator. Now, let me be very clear and say that I do not believe that President Obama kneels before an altar of Satan in the Oval Office every day – I'm not saying that at all. But I am saying that what he is doing now is preparing the way for this future dictator.
CP: So you're saying that current events, President Obama's policies, are examples of what's to come?
Jeffress: They are examples of what is yet to come. But they are also preparing the way for what is to come by conditioning people to give up their rights for the so-called greater good.
CP: In comparing the policies and political agenda of Barack Obama verses the George W. Bush administration, would you say that Obama is reducing the time to the rise of the Antichrist, whereas Bush was prolonging it, or is that not what you're saying? We have a linear history, and this where we're at right now, in history, toward the end times?
Jeffress: I want to be clear. I think some of the things President Bush did were also conditioning people for this future world dictator. For example, after 9/11 Americans willingly gave up certain freedoms and rights in order to protect our country. We willingly accept what the NSA is doing right now in order to protect our freedom and security. I'm not saying that is good or bad. But what I'm saying is, we are being taught that we ought to surrender our personal rights for a greater good.
And I think it's the same way it will be argued, one day, that everybody ought to receive a mark, for security purposes, to allow them to engage in commerce. I think there will be all kinds of national security and financial arguments applied to the best interest of this world empire for everybody to receive this mark of the beast that the Bible prophecies will happen.
CP: And one last question about Obama. Regarding his Administration's policy toward gay marriage, would you say that he's a leader or a following a cultural trend?
Jeffress: Regarding same-sex marriage, let's look at the chronology of that. It was in May of 2012 that the president signaled his support for gay marriage. And a year later, in June of 2013, the Supreme Court struck down key elements of the Defense of Marriage Act (DOMA). The Supreme Court never leads public thinking, it always follows public thinking. That has always been the history of the Supreme Court. And I believe when you have the leader of the country, the president, saying he's for gay marriage, I think that had a great deal to do with the rapid and increasing acceleration of embracing gay marriage that led the Court to make that decision a year later.