Robert Jeffress on Revelation, President Obama's Role in End Times Prophecy and Motivating Christians to Share the Gospel (Part I)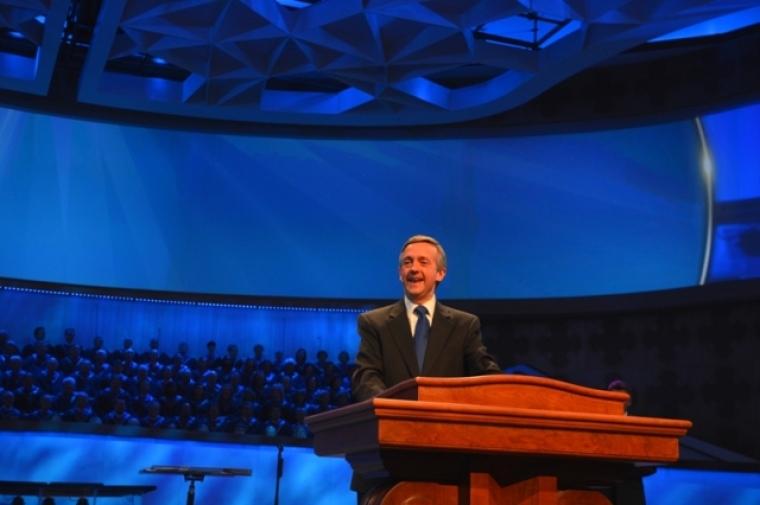 Pastor Robert Jeffress, senior pastor of the 11,000-member First Baptist Church in Dallas, Texas, has released a new book, Perfect Ending: Why Your Eternal Future Matters Today, that cuts through the misconceptions about end times prophecy and God's judgment, and answers questions about heaven. It also answers why Christians should be actively sharing the Gospel with nonbelievers.
In an interview with The Christian Post, Jeffress shared which questions he gets asked most about heaven, why he says President Barack Obama's policies are paving the way for a future world dictator, known as the Antichrist, and why Christians shouldn't shy away from being active in politics.
The following is an edited transcript of Part I of this interview.
CP: One thing that you share with readers is what we'll be doing in heaven, and you also answer questions about family pets and the relationship that married couples are going to have once they're in heaven. What question do you get asked most often?
Jeffress: It's divided. Half the people I talk to want to know if there's going to be marriage in heaven and whether they will have the same relationship with their mate; the other half are more concerned about whether their pets are going to be in heaven (laughs). I actually answer both of those questions, along with the 10 top questions that people have about heaven.
I think Jesus was very clear that there is no such thing as marriage in heaven. He said that, instead, we're going to be like the angels who are not married to one another and, therefore, do not procreate. Jesus did not say we become angels, but we are like angels in that one respect.
I believe the Bible clearly indicates that we will know one another in heaven, there will be relationships in heaven, but it won't be the marriage relationship as we know it today.
The question about pets is an interesting one, because although there's certainly going to be animals during the millennium – Christ's rule on the earth – the Bible talks about the wolf and the lion and the lamb, there is no mention of animals in the new heaven and the new earth in Revelation 21 and 22. That's not an air tight argument against animals being here. There very well may be animals in the new heaven and the new earth, but it won't be our pets resurrected.
Solomon made it clear in Ecclesiastes 3 that, unlike man who has an eternal spirit, animals do not have an eternal spirit.
CP: Who is the audience for your book? Is it exclusively for Christians or will nonbelievers be able to read the book and follow it?
Jeffress: The book is written for anyone who is interested in knowing what is going to happen in the future. God never tells us when these events are going to happen, but God does tell us what we can expect to happen in the future. Abraham Lincoln said one time, "If you can tell me where we are and where we are headed, I could better tell you what to do and how to do it."
This book is written for both a Christian and a non-Christian audience. I have two Jewish friends who are reading the book right now. They're fascinated to know what the Bible predicts about the future.
A TIME/CNN poll recently revealed that 59 percent of Americans believe the book of Revelation accurately predicts future events. And yet, to many people, the book of Revelation is a mystery. Some Christians believe that you're not supposed to understand the future. Yet, the great amount of space that the Bible devotes to future events means that it's an important topic, and one that God does want us to understand. So I wrote Perfect Ending to help clear up a lot of the misconceptions about the future, and help people understand what God has planned for us and how that relates to our everyday living.
CP: What would you like people to do after they've read the book?
Jeffress: I would like for people to live in the present with eternity in mind. If there is, in fact, going to be a rapture one day, in which we leave everything behind, shouldn't that loosen our grip on our material possessions right now?
If there is a great white throne judgment in which all unbelievers are going to be judged and sentenced to an eternity in hell, shouldn't that motivate us right now to share Christ with as many people as possible?
If we, as Christians, are going to stand before the judgment seat of Christ and be rewarded for our obedience to Christ in this life, shouldn't that be a powerful motivation to live a Christ-centered life right now?
The Bible never divorces the truth of Christ's future return with our present-day responsibilities. The Apostle Peter says in 2 Peter 3, since all of these things are to be destroyed in this way, what sort of people are we to be in holy conduct and godliness looking for in hastening the coming day of Christ?
C.S. Lewis once said the record in history is clear: the Christians who have been most effective in this world, are the ones who've thought most about the next world.
As a pastor, I've sometimes heard people talk about others who are so heavenly minded that they're of earthly good. I've never run into anybody like that. But I do run into people, all of the time, who are so earthly minded that they're of no heavenly good. And I wrote the book to help people not just to understand intellectually what God plans for the future, but also to motivate them to use that future truth to cause us to have a more God-centered life right now.
CP: You've talked about how we should refocus our lives spiritually; how should people change their trajectory politically, or in regard to their families?
Jeffress: I think we have to guard against extremes when we get into whole subject of Bible prophecy. One extreme, for some Christians, has been a fatalistic type of view that says, "Well, since everything is going to hell in a handbasket anyway, why even bother to try to do anything to push back against the ungodliness in the world. And furthermore, why would we want to, in any way, delay the coming of the Lord, since the long-term forecast is bright and sunny?"
Well, I believe the Bible commands us, in Matthew chapter 5, to be both salt and light in this present world. This is a theme I've written about often that God has Christians in the world today to be a preservative. We're not going to prevent the ultimate destruction of this world, but I think we can delay it by pushing back against the evil that's in the world. And the reason we want to push back, and give this world more time, is so that we have an opportunity to share the Gospel with more people.
The other side of this, though, is as Christians, we don't have to become upset about the world's situation and despairing. We know that the long-term outlook is bright and sunny for God's people. I believe the truth that Christ is coming back again should be a motivation for us to stand for truth right now and share the Gospel with as many people as possible.
CP: In your book, you mention that President Barack Obama's policies and political agenda is paving the way for a future world dictator. Can you provide a couple examples of those policies?
Jeffress: Those are probably the two paragraphs in the book that have garnered the most national attention. I want to be very clear, I am not claiming that President Obama is the Antichrist. In fact, I'm absolutely certain he is not the Antichrist. The reason I can say that is the Bible indicates the Antichrist will have higher poll numbers. But I do believe that the president is paving the way for a future world dictator.
The Bible says the seven years of history before the coming of Christ will be characterized by this world dictator that we commonly call the Antichrist. He will usurp people's basic freedoms, such as speech, worship and commerce. He will launch an attack against God's people. And he will seek to change God's moral law, according to Daniel 7:25. And he will be able to accomplish all of these things with little to no opposition – at least at the beginning.