Robert Jeffress on What Jesus Thinks About the Transgender Debate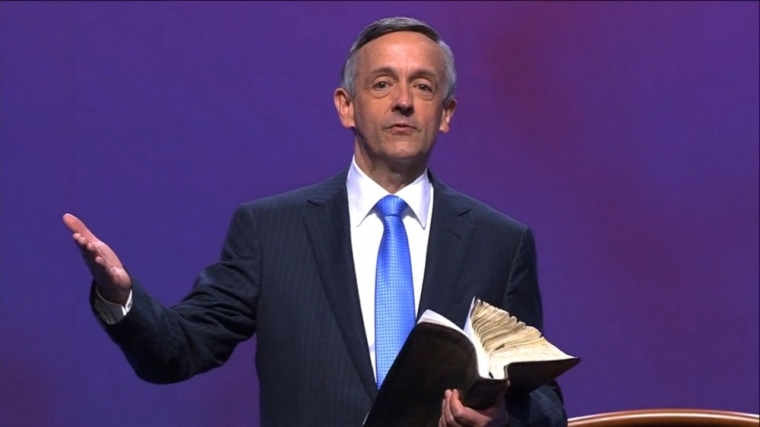 Pastor Robert Jeffress of First Baptist Church in Dallas, Texas, preached about the transgender debate in America during his sermon on Sunday, telling the congregation that God already addressed the issue with Jesus' Words in the Bible.
Jeffress said in his sermon that many Christians are confused about how they should respond to the ongoing transgender debate seen in bathroom policies and recent court cases.
"It's not that confusing. In Matthew 19:4, God's Words are applicable. The Bible says 'God made them from the beginning male and female.' Not male, female and question mark. God has determined how many sexes there are — there are two, not three," the megachurch pastor said.
"Gender identity confusion is an emotional disorder, that should be treated professionally, and compassionately. Gender identity confusion should not be exploited by social activists like those in the [President Barack] Obama administration who want to deny the God-given distinction between the sexes. This is a rebellion against God's plan," he added.
Late last week, the Obama administration issued a new directive to public schools, meant to be inclusive toward transgender people, allowing students to select which bathroom they use based on their gender identity.
"There is no room in our schools for discrimination of any kind, including discrimination against transgender students on the basis of their sex," U.S. Attorney General Loretta Lynch said in a statement.
The debate has also manifested in the consumer sector, with chain store giant Target reaffirming its stance in a public announcement last month that it will allow employees and customers to use the bathroom of their choosing. The decision was slammed by conservative groups, including the American Family Association, which warned that such a policy could leave room for male sexual predators to abuse children.
Target, which has been hit by declining stock prices and consumer support, has refused to back down from its new policy, despite an AFA petition gathering over 1.2 million signatures.
"Everyone deserves to feel like they belong. And you'll always be accepted, respected and welcomed at Target," the company previously said.
Jeffress insisted, however, that Christians who do not agree with transgender bathroom policies are not being hateful.
"This is not hatred. Christians should never ridicule, or show hatred toward those experiencing gender confusion, they should not do that at all. We ought to treat them lovingly," he told his congregation.
The pastor added that "the most loving thing we can do is to assure them that their gender is not a mistake. It's a part of a loving, perfect plan" that God has for their lives, he said.
Other prominent evangelical leaders, including the Rev. Franklin Graham, have also argued that people are either male or female, regardless of how they identify.
"We are the sex God created us to be — male or female. How a person feels doesn't change the facts," Graham said in April.