Franklin Graham Joins Over 850K Americans in Target Boycott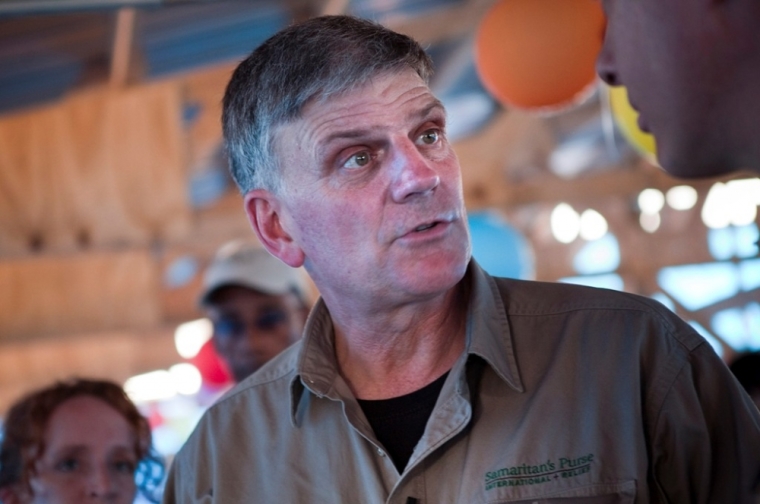 Franklin Graham says he's standing with the nearly 1 million people who have signed a petition to boycott Target over its new bathroom policy that allows men to go into women's bathrooms if they identify as female.
"Target is putting its shareholders — and its customers — at risk! Just since last Wednesday over [854,000] people have signed a pledge to boycott Target over its new bathroom policy that welcomes employees and guests to use the restrooms or fitting rooms that 'corresponds with their gender identity.' Target certainly has the prerogative to make this decision, but it's proving to be bad for business," Graham wrote in a Facebook post on Tuesday about the American Family Association's petition.
"I'm glad people are standing up and letting them know this is wrong. I agree with the American Family Association — this policy encourages sexual predators and puts women and children in danger. A man shouldn't be able to enter the women's restroom or dressing room because he says he 'feels like a woman today.' That's ridiculous," Graham continued.
The president of the Billy Graham Evangelistic Association argued that gender identity is not something that people can choose or feel.
"We are the sex God created us to be — male or female. How a person feels doesn't change the facts," Graham insisted.
Target has said it will allow people with a different gender identities to the sex they were born with to choose which bathroom or changing room they use, explaining in a statement that it wants to be more welcoming to employees and customers.
"We believe that everyone — every team member, every guest, and every community — deserves to be protected from discrimination, and treated equally. Consistent with this belief, Target supports the federal Equality Act, which provides protections to LGBT individuals, and opposes action that enables discrimination," the chain store giant said earlier in a statement.
AFA's petition argues, however, that such policy is "exactly how sexual predators get access to their victims."
"And with Target publicly boasting that men can enter women's bathrooms, where do you think predators are going to go?" the petition asks.
"Clearly, Target's dangerous new policy poses a danger to wives and daughters. We think many customers will agree," it adds.
The petition asks Target to consider offering unisex bathrooms for those that want to use them, but still keep separate bathrooms for men and women as an option.
Other prominent conservatives, including creationist Ken Ham, have argued that Target's views of gender identity go "against God's Word."
"Well, Target needs to hear Jesus' Words: 'Have you not read that He who made them at the beginning 'made them male and female?' (Matthew 19:4)," Ham wrote last week.
"They need to hear what Jesus said in Mark 10:6: 'But from the beginning of the Creation, God 'made them male and female,'" he added.
"They need to hear that 'God created man in His own image; in the image of God He created him; male and female He created them,' (Genesis 1:27)."