Robin Thicke and Pharrell Williams in 'Blurred Lines' Court Case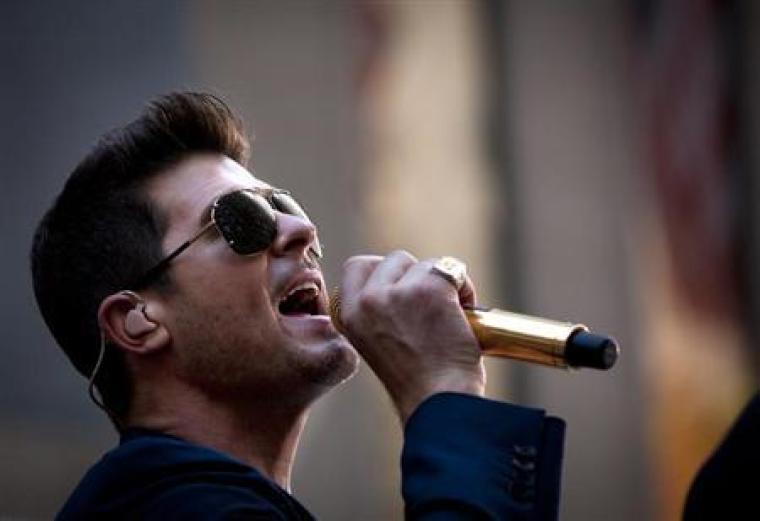 Robin Thicke admitted to being "high and drunk" for much of 2013, according to reports. The R&B singer told lawyers that he wasn't at all sober when he and Pharrell Williams first came up with "Blurred Lines" — the hit song landed Thicke in court with Marvin Gaye's estate, who claim that he ripped off Gaye's "Got to Give It Up."
Robin Thicke told the attorneys that he was high every day in a deposition made public Monday and that Williams "geniused the whole thing." In his eyes, because he was high all the time, he isn't responsible to any similarities between last year's summer hit and Gaye's iconic 1977 hit.
"I was high on Vicodin and alcohol when I showed up at the studio," Thicke said in the deposition. "I walked in and he [Pharrell Williams] started singing me some ideas he had and the song happened very quickly. I jumped right into the booth and started singing whatever he said."
That contradicts what he previously said in interviews about the extremely popular song — before he said that "Blurred Lines" was at least partially his idea.
"Pharrell and I were in the studio making a couple records, and then on the third day, I told him I wanted to do something kinda like Marvin Gaye's 'Got To Give It Up,' that kind of feel 'cause it's one of my favorite songs of all time," the singer told Billboard Magazine for a July story. "So he started messing with some drums and then he started going 'hey, hey, hey' and about an hour and a half later we had the whole record finished."
Thicke said that he had been drunk during all his previous interviews, and that lying about coming up with the hit might "help sell records" at the time.
"With all due respect, I was high and drunk every time I did an interview last year," he explained. "So there are some quotes I don't remember saying, but I do generally remember trying to sell the public on the fact that 'Blurred Lines' was my idea in some way."
Gaye's family is suing Thicke, Pharrell and T.I. for illegal imitation for "Blurred Lines." Thicke has a 20 percent songwriting credit for the song.