Rodman N. Korea Return: Dennis Rodman Confirms 2nd Visit to Kim Jong-un in August (VIDEO)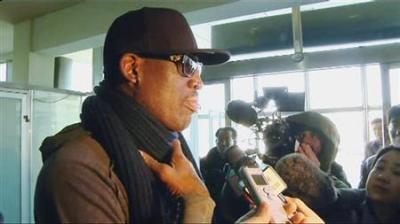 Dennis Rodman will make a N. Korea return later this year, the former NBA star has confirmed.
Rodman has said this weekend that he plans to return to North Korea in August, which will spark further controversy following his visit to the country in February.
Earlier this year Rodman was criticized by some when he visited North Korean capital Pyongyang and hung out with dictator, Kim Jong-un. He was seen watching a Harlem Globetrotters exhibition match while drinking Coke with Kim at that time.
Following his visit Kim spoke fondly of Rodman, calling him a "normal guy."
There was suspicion over the previous visit, and the FBI even reportedly questioned Rodman on his return to find out what had happened.
However, despite the controversy Rodman has refused to back down from his divisive relationship with the North Korean leader, and he now has confirmed a follow up visit to "hang" with his new friend.
Talking to the Miami Herald, Rodman said: "I'm going back August 1. We have no plans really, as far as what we're going to do over there, but we'll just hang and have some fun!"
Over recent weeks the tensions between North Korea and the international community has hit new heights as Kim's rhetoric has been inflammatory and threatening. The North Korean leader has repeatedly announced that the North would fire missiles at its enemies, and destroy the United States and South Korea.
Speaking of his visit in the context of the heightened relations, Rodman said: "I'm not a total idiot. I know what Kim Jong-un is threatening to do regarding his military muscle. I hope it doesn't happen because America will take whatever actions to protect America and our allies. I do think, umm, you know, that we have to talk to people who want to cause us harm so hopefully they won't."
Here is a video news report on Dennis Rodman's North Korea visit: