Roma Downey on 'Son of God' Reception and Upcoming Project (INTERVIEW, VIDEO)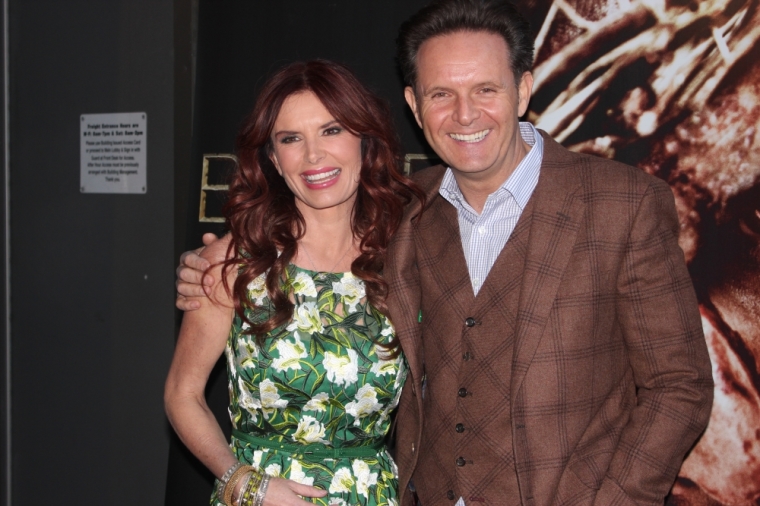 Actress and producer Roma Downey has had an eventful year, along with her husband, Mark Burnett, releasing "The Bible" on TV and "Son of God" on the big screen. Downey spoke with The Christian Post about the success of "Son of God" and its importance during this Holy Week, as well as a new project that she and Burnett are working on for next year.
The Christian Post: Congratulations on the success of your projects.
Roma Downey: Thank you! It's been so wonderful to see how it's touching people's lives and bringing hope at a time when we need that more than ever.
CP: What's your reaction to the enormous success of "Son of God"? Have you been pleased with its reception?
RD: We've been so thrilled that so many people have seen the movie and so many lives have been changed. This has been a journey of love for my husband and I – we poured everything into the show and the movie. And to see them so well-received has been gratifying.
CP: Please tell us about the new project you are working on.
RD: We actually have so much going on. Together, we started a production company called Lightworkers Media. And our intention has always been instead of cursing the darkness, we would rather light a candle and through our work to shine the light of hope and faith. It was out of that that our intention was set to create "The Bible" series, which of course, was a phenomenal hit at Easter in 2013 and then "Son of God," which launched to huge success this spring. And out of that we are now creating a new series for NBC called "A.D." which is set to air in the fall of 2015.
"Touched by an Angel" started my calling to be the messenger and on a weekly basis I was able to deliver the message of God's love to the world. At the height of its success, "Touched" was watched by over 20 million people per week. It took a very simple premise: that there is a God and He wants to be part of your life, and every week we had that central scene that we referred to as "the angel revelation" scene, and somewhere in that speech, we would let the person being helped that week know that God is and that God loves him or her. I took it seriously – we would pray before that scene – that we (I) could be used to express the message not just on TV but through the TV into the lives and hearts of people.
When "Touched" ended, I continued to pray to be used by God. Out of that, "The Bible" series came – an answer to a prayer really of how we can use our gifts and artistry. I think that everything is born from intention. We continue to be able to do that through Lightworkers, to be able to shine a light in the darkness.
"A.D." will focus on life after the crucifixion and the dangers that the disciples faced in the aftermath of Jesus' resurrection. One of the major "characters" in this series will of course be the Holy Spirit.
CP: How has working on these projects affected your own faith?
RD: It has certainly deepened it. I came in with a strong faith, but these last few years have been demanding, to say the least. It has not been without trial to get this work done. At first, many thought we had lost our minds and were risking our reputation, risking our finances, risking our professions … the feeling was that perhaps no one was interested in the Bible, especially as a television series. Of course, now we know that over 100 million people watched the series in the United States alone, and it has gone out around the globe. We've been very encouraged as we see the numbers coming back.
"Son of God" has seen huge numbers, and with this week being Holy Week, that we will see a surge in attendance as people turn their hearts and spirits toward God. We answered the call, and we got out there and made it, and God has taken it and done amazing things with it. Lives are being transformed and hope restored.
There was one story we heard of a teenage boy who was angry at the world. His mother had tried everything and finally got him to go to the movies with her. They saw "Son of God," and he cried all the way home. The following Sunday morning, when she went out to the car for church, he was already in the car. When you hear those stories, and you combine those with stories of people around the world, you really get the feedback that matters. The movie is not meant to replace the Bible but to accompany it. It's the first time that some people will get to "see" Jesus on the big screen, in real life.
I was asked whether I had a hidden agenda to evangelize to people, and I said, "Absolutely not. It's not hidden at all. I do want this movie to be used to evangelize to people." Pastor Rick Warren has put together a curriculum, as has the Catholic church, to complement the movie and reach people. And the movie ends with the Great Commission, to go out and spread the Gospel with everyone.
"Son of God" is currently playing in theaters. The soundtrack, which features CeeLo Green, Steven Stern and George Krikes, OneRepublic, Sara Bareilles, The Fray and Hillsong UNITED, debuted in the Top 5 in the iTunes Soundtrack Chart in its first week alone.
Watch the trailer for the film here: