'Resurrection' Easter film captures power of the Holy Spirit; 'It's available to all': Roma Downey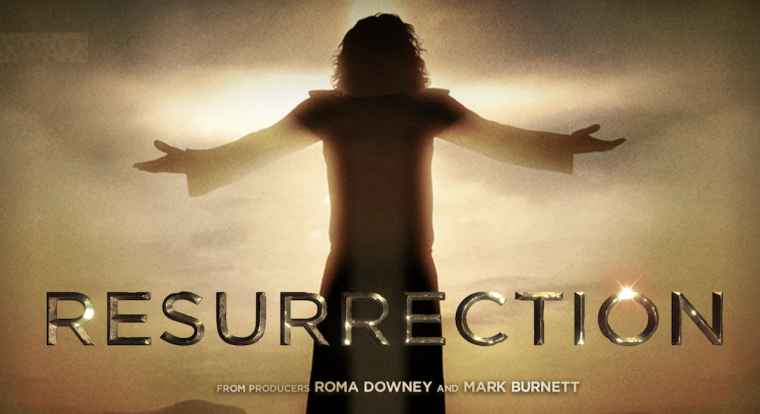 Discovery+ is gearing up for the release of the new faith-based film "Resurrection" from "The Bible" producers Roma Downey and Mark Burnett, and unlike other cinematic re-tellings of the historic moments of Christ's resurrection, they include the promised coming of the Holy Spirit.
The MGM and LightWorkers production will debut on March 27.
According to the synopsis of "Resurrection," the movie focuses on Jesus' followers who are now "hunted, leaderless and desperately searching for understanding, but when Jesus rises from death, they realize that hope didn't die on the cross. It lives on in them."
In an interview with The Christian Post, Downey recounted the premise of the holiday release and highlighted a part of the film she said is greatly meaningful: The Day of Pentecost explained in Acts 2 of the Bible where Christ's followers received the promised Holy Spirit — God's presence which would now live in them and lead them to be witnesses of Jesus in all the Earth.  
"We see them filling up with Spirit, filling up with this fuel, that's going to take them through the rest of their journey, and to go do what He asked them to do, which is to go share the Gospel with the world," Downey said of the disciples in the film. "When the door opens, and they finally stumbled down the stairs, they're speaking languages they didn't even know that they could speak. They're just so full of God, and they're ready then to profess their faith." 
"I really think it was meaningful and impactful at the very end of the film. Where now [they were] fueled by the Holy Spirit. We recap how each of them went out into the world, but we remind the audience that they were just a handful of believers that our faith started with. Now we are over 2 billion Christians in the world, and I just think it's so empowering for us because It's available to all of us," she said of Holy Spirit. 
Downey has had a successful career in Hollywood, spanning from her role in "Touched By an Angel" to her record-breaking series "The Bible" and blockbuster film "Son of God." The actress and filmmaker revealed that she does none of it without the guidance of God's spirit. 
"There hasn't been a project that Mark and I have started that we haven't prayed before we started. And we pray to the Holy Spirit to guide us, to strengthen us, to help us to make the right casting choices, to help us make the right hiring choices, to bring in excellent people, to find them for us," she said. "Any decision in my life, big or small, I've never made without praying first." 
In "Resurrection," the Pentecost scene features special effects that illustrate the divine encounter described in the Bible. Downey said she has not personally "experienced the rings of fire," but that experience "really resonates" with her.
"I haven't quite experienced the rings of fire, but I have felt divinely guided at times," she testified.
The new movie features some of the original cast from the series, "A.D. The Bible Continues." And some of the scenes included footage from MGM and LightWorkers' library of biblical material that was used in place of filming during the pandemic.

"Let's face it, it's just been the most challenging of years for everybody in many ways, because of the isolation, because of how we've been locked down in very small groups, and we've been disconnected from friends and extended family; it's a little tomb-like for each of us," Downey told CP of her excitement that the movie has a message for such a time as this. 
"I think collectively, we're all longing for a resurrection of our lives — that we can get back into our lives, that we can get back to our loved ones, that we can get back into work and school and all the things that we've been cut off from," she continued. "So I feel that the story, apart from all the obvious messages, and that it's the most important story in our faith, I feel also the symbolism within the movie is perfect for this particular time."
Downey hopes families will create new memories as they gather around the television and stream "Resurrection" on Easter weekend. 
"I have very fond memories myself of gathering around the TV at Easter when I was a child," she reminisced. 
She recalled watching "The 10 Commandments" and "The Greatest Story Ever Told." 
"I'm really hopeful maybe by watching 'Resurrection' on Discovery+ this Easter season, that maybe it will be the first of an annual tradition that families will start doing together," she said. 
"While we all appreciate the Easter bunny, and I've never said no to a chocolate egg, we can't forget what the real message of Easter is, and the importance and how central it is to our faith," the Northern Ireland native maintained. "You could remove Christmas from the New Testament and you still have the New Testament. But if you removed Easter, or the story of the resurrection, from the New Testament, I don't know that it would have the same impact." 
"This was the miracle. This was the biggest miracle, the life-changing miracle of Jesus because Jesus said He would rise. Then by rising, He was the man He said He was, He was the Son of God," she added. 
Downey ended the interview with a message of encouragement to those who feel alone in this season. 
"A theme that has resonated through my life, while sometimes feeling alone or feeling abandoned, I know that in the midst of a crisis like this, because we couldn't go to church, we couldn't gather with our friends, maybe friends who often would support us, and buoy us through hard times, that there's a sense of aloneness," she explained. "I think that I would just remind everybody that you know that we're not alone." 
"I've always taken great comfort in the little prayer footprints, the one where the person cries out and says, 'Lord, when I needed you the most, where were you? There's only one set of footprints on the beach.' And the Lord says, 'Why it was then that I was carrying you.' And I would just offer that as some comfort because He is, He's carrying all of us," Downey added.
"We may not see the wisdom or the plan here; we can only see with human eyes and experience through our own humanity. We don't know. But God knows, and we just have to be reminded to trust Him, to place our trust in Him."
The 60-year-old wife and mother said she and her husband, Burnett, will continue to release positive content under their banner LightWorkers.
"Lightworkers has continued to have and grow a very strong social presence. We're committed to inspire, to uplift, to post daily. We post Scripture; we post uplifting videos. We've seen such huge growth in the last year, and I think it speaks to just the need in people's lives — that people are tired of the division, people are tired of the hateful words and the hateful rhetoric," she said.
"I think people are, are longing for connection again, to be reminded that we have more in common than not, and to remember to be kind to each other. So that's another thing that we've continued to do at LightWorkers," she continued. 
Downey and Burnett hope "Resurrection" follows the success of "The Bible" miniseries, which earned them three Emmy nominations and garnered over 100 million viewers on the History channel.
Their "Son of God" film adaptation became one of the highest faith-based movie openings of all time in 2014. Their sequel miniseries, "A.D. The Bible Continues," followed the film's success, and now "Resurrection" will continue the biblical re-telling.
Downey celebrated that Discovery+ will be streaming "Resurrection." Many streaming companies wanted rights to show the film, Downey revealed, but Discovery+ was the right home.
"[Speaking] of wholesome entertainment ... Discovery+ is a new platform, but it's completely family-friendly. It has lots of great content in there that is appropriate for you and for your family. We thought that was important to know if we're asking people to come in and watch this movie," Downey concluded.
"For under $5, you can join Discovery+, you'll get a ton of other great content and you'll get to see this film which we hope will bless the audience," Downey added. "We hope it will bless you. And we hope that it will be just a great additive to the Easter season in your home."