Romney Dominates NH; Paul, Huntsman Have Strong Showing
Mitt Romney met and in some cases exceeded expectations in New Hampshire by capturing almost 40 percent of the vote in the nation's first primary. Texas Rep. Ron Paul took advantage of the state's independent minded voters to finish second with about 23 percent of the vote, followed by former Utah Gov. Jon Huntsman with 17 percent.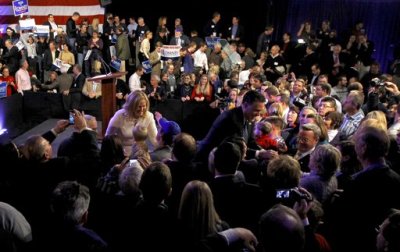 "We're nibbling at his heels," Paul told a rousing group at his election night gathering after he congratulated Romney on his decisive win. "He had a victory, but we have had a victory for the cause of liberty tonight."
Former Speaker of the House Newt Gingrich and Santorum were locked in a nail-biter for fourth place with only a couple of hundred votes separating the two. Santorum set his expectations for New Hampshire low but was hoping for a strong showing to propel him into South Carolina.
Counting the narrow eight-vote victory he had over Santorum in the Iowa caucuses, Romney is the first candidate in years to win the nation's first two major contests.
However, Romney's victory speech sounded more like he was accepting the GOP nomination than a victory speech after a small state win.
"The last three years have held a lot of change, but they haven't brought much hope," said Romney. "Americans know that our future is brighter than these troubled times."
Given his organization and financial strength, Romney is without question the candidate to beat in South Carolina.
In the days leading up to the New Hampshire election, Romney's fellow rivals began a series of blistering attacks on him and his former firm, Bain Capital. Unfazed, Romney reminded his colleagues that such attacks would not go unnoticed. "This is such a mistake for our party and our nation."
Huntsman, who has devoted all of his effort to the Granite state, sounded optimistic that he could compete in other state primaries.
"Ladies and gentlemen, I think we're in the hunt," Huntsman remarked Tuesday night. "Third Place is a ticket to ride, ladies and gentlemen. Hello, South Carolina."
Nevertheless, the former ambassador to China may have a steep hill to climb in South Carolina as he is polling dead last with only 2 percent of the vote in the latest Rasmussen poll. Romney holds a slim three point margin over Santorum with 27 percent, compared to Santorum's 24 percent.
Romney Wins In New Hampshire
Not only did New Hampshire produce a solid winner, it may have signaled the beginning of the end for Texas Gov. Rick Perry who finished with less than one percent of the vote.
Despite his last place finish, Perry is still optimistic and pinning his hopes on South Carolina.
"The fact is that there's a lot going to happen in the next two weeks in South Carolina. People are now just starting to focus on this," Perry said Wednesday, according to CNN. "South Carolina is a place where campaigns are going to be made or broken. They pick the president. South Carolinians are looking for a conservative candidate that will get this country back working again and I am it."
Perry's poll numbers, however, don't look much better down South where he is only getting 5 percent of the voters polled. If Perry cannot pull out a strong finish in the Jan. 21 South Carolina primary, then many pundits are predicting his campaign will come to an abrupt end.
But with no time to waste, the candidates will immediately head to South Carolina where they have two debates and at least three major gatherings where they will have yet another chance to demonstrate their political prowess next week.