Romney May Carry More Evangelicals Than Perry, Bachmann in Iowa
Despite open tension between some evangelical pastors and Mitt Romney, there is a strong likelihood the Mormon bishop will carry more evangelicals in Iowa today than either Rick Perry or Michele Bachmann, who have spent the last month courting them, according to one of the last polls taken before today's Iowa caucus.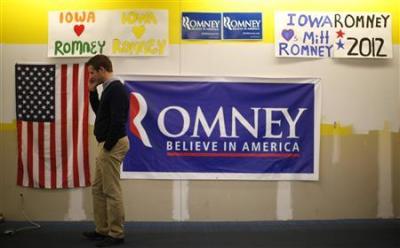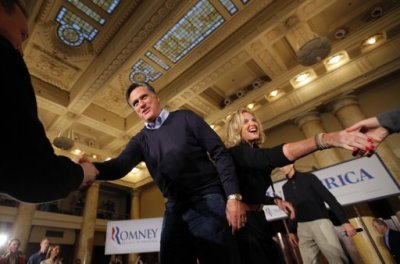 A Dec. 31 to Jan. 1 survey of 1,340 likely Republican caucus voters conducted by Public Policy Polling (PPP), shows that a plurality (24 percent) of Iowa evangelicals support Rick Santorum. After Santorum, however, there is essentially a three-way tie between Newt Gingrich (16 percent), Ron Paul (15 percent) and Mitt Romney (15 percent). Rick Perry and Michele Bachmann only received 12 and 11 percent support, respectively, from Iowa evangelicals.
A strong Iowa showing among a split evangelical vote may answer an open question whether Romney can gain the support of the Republican Party's social conservative wing, which includes many evangelical Christians. Romney belongs to the Church of Jesus Christ of Latter-day Saints (LDS), sometimes called the Mormon Church.
Support from Christians has been a point of open controversy. At the Values Voter Summit in October, Dallas megachurch Pastor Robert Jeffress said that the LDS church is a cult and "evangelical Christians should not vote for Mitt Romney because he's a Mormon, therefore not a real Christian."
While Romney has downplayed the fact that he is an LDS bishop, Texas Governor Perry has made his Christianity a campaign issue. "I'm not ashamed to admit I'm a Christian," Perry said in one of his TV ads. In that same ad he accused President Obama of waging a "war on religion."
So, why is Romney getting more support than Perry among evangelical Christians?
Not all evangelicals are agreeing with Jeffress, who is a Perry supporter. In an Oct. 18 editorial for The Christian Post, Dr. Richard Land, head of the Southern Baptist Convention's Ethics and Religious Liberty Commission and executive editor for The Christian Post, argued that Romney's stance on the issues and his competency, rather than his religion, is what should matter to Christians.
"If a voter agrees with Gov. Romney on the issues and believes in his competency, then will he or she vote for him over a less competent opponent or one whose policies the voter does not share? One would be hard pressed to find a good reason for a voter not to vote for Gov. Romney in such circumstances," Land wrote.
Plus, in an Oct. 18 interview with The Christian Post, bestselling evangelical author Chuck Colson asked his fellow Christian's to "stop quibbling" over Romney's faith.
The PPP poll gives some other indications for why some Iowa evangelicals might prefer Romney.
While evangelicals are more likely than non-evangelicals to say that social issues are the most important issue (15 percent to 5 percent), government spending and reducing the debt was listed as the most important issue among evangelicals (39 percent) and non-evangelicals (38 percent) alike. The focus of Romney's campaign message has been that his business sector experience makes him best suited to reign in government spending.
Plus, evangelicals were slightly more likely (34 percent) than non-evangelicals (29 percent) to say that a candidate's ability to beat President Obama is more important than their issue positions, and a plurality of evangelicals (21 percent) said that Romney is the most electable candidate, in the poll of likely Iowa caucus voters.
Romney has also received the endorsement of some politicians who have strong support among evangelical and social conservative Republicans, such as Sen. John Thune (S.D.), Christine O'Donnell, who ran for a U.S. Senate in Delaware in 2010, and South Carolina Governor Nikki Haley. Even Santorum endorsed Romney in 2008.
There is also a website, evangelicalsformitt.org, started by David and Nancy French, devoted to expressing evangelical support for Romney's candidacy.
"We want a candidate who shares our political and moral values and priorities, can win in 2012, and can govern effectively thereafter by articulating and implementing an intelligent, values-based governing strategy. This is just what Mitt Romney did as governor, this is just what Mitt Romney did in business, and this is what he would do as president," they write.
The Christian Post Daily Report 01.03.12