Ron Carpenter Jr, Pastor of Multiracial Megachurch, Apologizes After Wife Slams 'Take a Knee' Protest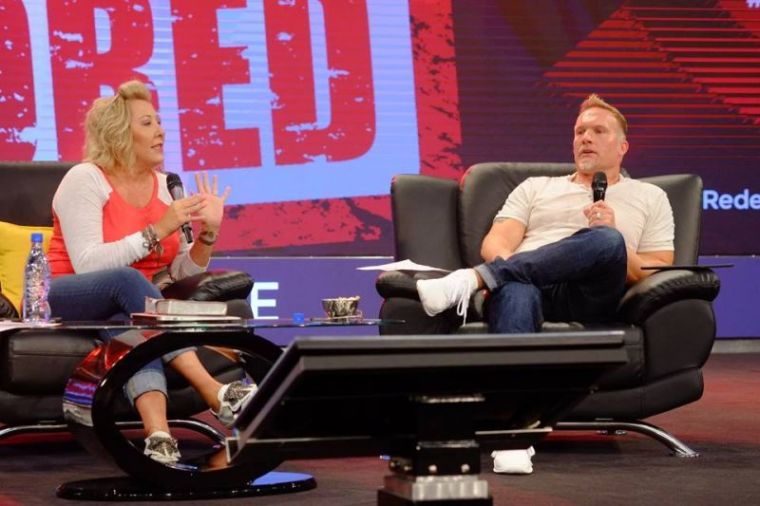 Ron Carpenter Jr., who has spent more than 25 years building a 21,000-member multiracial congregation, was forced to apologize to hurt parishioners late Tuesday after his wife made controversial comments online, arguing that NFL players protesting during the national anthem is wrong.
"If you know me at all ... you know who I am, what I stand for and my fight for equality for all of us as humans! Right??? So do not dog me out for my video/pic I just posted about the silent protest! It's wrong!" Hope Carpenter, whose husband leads Redemption Church in Greenville, South Carolina, wrote in a since deleted post on Facebook Sunday.
She then suggested that anyone who doesn't like America and what it stands for should move. Hope Carpenter also argued that the controversial "take a knee" movement sparked by former San Francisco 49ers quarterback Colin Kaepernick, 29, is only dividing the country. Kaepernick began kneeling during the performance of the national anthem last season to protest police brutality and the treatment of minorities.
"Stop thinking about it from your history or race! The NATIONAL ANTHEM IS OUR NATION's SONG! Yes, there are things in our country that's wrong, but our country is not to blame! You don't like it? Move or be a part of the healing of our nation! This only separates and divides more yall!!!!! Rise up church! Where you at??? U hanging out with the complainers??? The mad???? Where u at???" Hope Carpenter continued.
"Jesus is our only answer and He promotes faith, love, peace, HONOR and unity and submission! Do things the right way and get a right outcome! Want to protest? Do it differently ... but not honoring our national anthem! God's been good to us and these people still are representing a STATE on their jersey! This will not fix racism! Duh!!! Only Jesus!"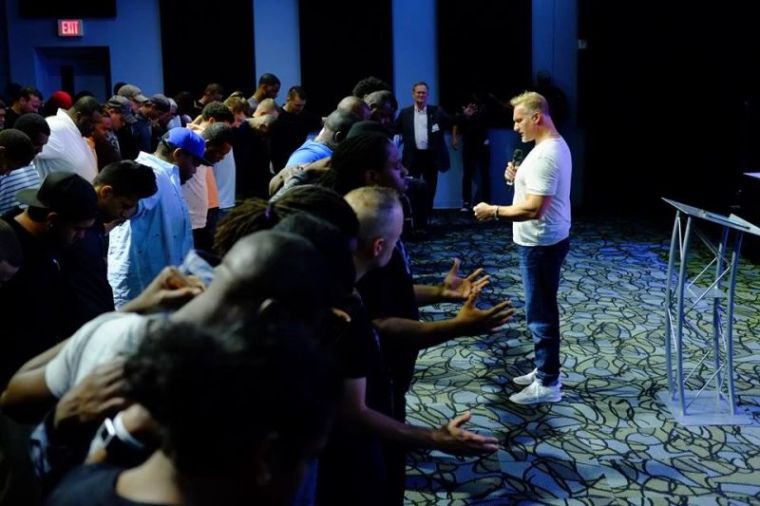 In a 2016 profile on the church, The New York Times described the membership of Redemption church as "a bracing blend of black and white with a smattering of Latinos" who were united in prayer but not in politics. An estimated 60 percent of churchgoers at the church's flagship campus is said to be black.
As word spread of Hope Carpenter's comments online, the backlash was swift and furious.
"For personal reasons, my pastor can't be white but if yours is please make sure they at least like black people. They'll likely never understand us but hopefully they can empathize. This post from Hope Carpenter, who has LOTS of black members, almost made me wreck my car ..., " quipped black North Carolina resident Anthony Seer.
After the onslaught of criticism, however, the controversial post was removed and replaced with a brief apology from Hope Carpenter on Monday.
This was then followed by a more detailed video apology from her husband who said his wife, who has been treated for mental illness, had "taken a beating" as a result of her comments and was in a "pretty emotional and fragile" state.
"Words hurt and I don't know that we have faced anything like we have over the last day or so. Hope probably has one of the best hearts of anyone I've ever known in my life....I've never seen her get in a crowd of people where they didn't feel the love that came from her. She is an amazing person," Ron Carpenter declared.
He then explained that he and his wife were raised in military families so the national anthem and the flag is "sacred" for them.
"You got two people here, me and Hope that were both raised in very patriotic homes, military people, war vets, retired military in both of our families. And you know, the national anthem, the flag, all that was just something that was always sacred. Hope in no way tied together patriotism and racial insensitivity. And people can claim that and shoot at us for that. But it's just not true and the statement that was made, we woefully underestimated how racially insensitive that may have been to any people that feel disenfranchised in any way. And so we've come to say that we're sorry. We've come to apologize. I'm apologizing on her behalf," he stressed.
"It's been tough to hear the things that have been said about us. But maybe this is a learning moment for us. I'm not gonna tell you to be quiet. I'm gonna tell you to teach me. Make your comments. Let it out. We apologize if we hurt you. We apologize if we were ignorant, we apologize if we were insensitive. I get that there are many disenfranchised minorities in this world. Not only do we get it, we've given our life to help change it. So don't judge us over a Facebook post, judge us over 27 years of digging it out in some of the most hurting communities in our area. We'll be back there Sunday with a smile on, doing our best," he added.
The pastor also asked his critics to give him and his wife "grace and mercy" as multiculturalism is a difficult process.
"I didn't want to get on here and tear and snot and slosh and it go viral and everybody talk about I'm a hypocrite and it's not genuine. So I'm trying to compose myself as it is. I ask for grace and mercy. I have given my life to get out of my world, and get into other people's world and say teach me what it was like to be you. I've done this at many racial tables. I had a day in the 1990s where I had five nationalities, five different ethnicities together and said 'teach me racism.' I wanted to know what their world was like because unless I know the needs of the community, I can't properly address it. I can't properly speak to it. And my entire, and Hope as well, our entire life, body of work has been multiculturalism," he said.
"Multiculturalism is not easy. It is hard. Redemption has come at a ridiculously high price. I never dreamed a ministry could have such a high price tag. Y'all only think you know. You don't know. Privately, publicly, the price tag for that kind of ministry has been so high. And I knew with the racial tensions that came with the turn of this election, I knew, I felt the walls closing in on me and I was having to tiptoe and tip through more and more landmines until finally here I am today," Carpenter continued.
"I'm for everybody. I love you and I want you to succeed. You want me to tell you who I'm mad at today? The enemy. I'm not mad at anybody 'cause I know we're not wrestling flesh and blood. I know what's going on here. And the way he fights is he fights in thoughts and concepts and he wages war in people's minds and makes 'em fight and hate and divide. I hope and pray that our life's body of work of knocking on doors, changing communities, millions of dollars raised. Grants written, efforts done, ministries ... I hope all that is not called into question over one Facebook post."