Ronnie Floyd's 2016 Presidential Address to the SBC: The Stakes Are High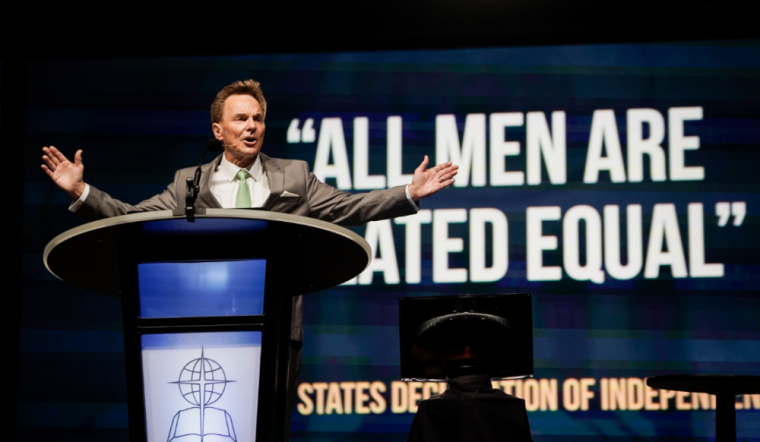 Last Thursday, Jeana and I walked into the Old Courthouse and experienced the stories and places where history was made. We stood on the steps where people with the Divine imprint of God upon them were sold into slavery. Yet, history records that months following this tragic decision by the United States Supreme Court in the nation's Capital, in this same Old Courthouse in St. Louis where it all began, Scott's owner Irene Emerson Chaffee transferred ownership of the Scott family to his friend, Taylor Blow, who freed them. Working then as a porter in Barnum's Hotel in St. Louis, Dred Scott died from tuberculosis after enjoying his freedom for just over one year. Historically, we know it was through the sacrifice of the Civil War and the bold leadership legacy of President Abraham Lincoln that only a few years later all the slaves were freed. Yet, it was not until 1870 with the ratification of the Fifteenth Amendment to the United States Constitution that all African American men would become citizens and be given the right to vote. It is with deep regret that I can do nothing about this stained past against our African American brothers and sisters; but with all I am and with all I can, I join you in creating a future together that binds up the nation's wounds and always marches ahead knowing we will not be satisfied until "justice rolls down like waters, and righteousness like a mighty stream." (Amos 5:24)
Before I go further, I want you to meet and greet someone special who decided to come and visit our convention when she was told by a friend I would be mentioning Dred Scott and hosting our racial unity panel this morning. Lynn Jackson is the great-great granddaughter of Dred and Harriet Scott and is the President and Founder of the Dred Scott Foundation here in St. Louis. Would you welcome Lynn Jackson to the Southern Baptist Convention?
Why is all of this so important? I believe the issue of racism is from Satan and his demonic forces of hell. Why do I believe this? Racism is an assault on the gospel of Jesus Christ. Since the essence of the Gospel is spiritual adoption that releases us from our prior state, anything contradicting that must be a lie about Christ and subversive of His finished work on the cross. Racism is completely opposite of the message of Christ. Racism is completely opposite of the message of love. Racism is completely opposite of the message of reconciliation. While our nation is being divided across racial lines, uniting His people across racial lines best reveals God's heart for all the nations.
In this desperate time in our nation when the racial tension is building rapidly, our Southern Baptists churches must rise together as one and decry this atrocity and lead through it in the gospel way. Southern Baptists, silent denominations die and their message dies with them. Let's be clear and not be silent.
We are not black churches. We are not white churches. We are notLatino churches. We are not Asian churches. We are the Church of Jesus Christ. We are members of the same body. The hope for all racism to end in America is in Jesus Christ and in His triumphant church. This is why we are having in this morning's session, A National Conversation on Racial Unity in America. Let the church rise. The stakes couldn't be higher!
America is facing a spiritual crisis. This is our greatest crisis. All other crises surface due to this major spiritual crisis we are facing as a nation. We need to stop treating just the symptoms. It is time to go to the root of our problems. America is in a major spiritual crisis, perhaps the worst in our generation.
The stakes are high! The stakes couldn't be higher!
In this critical hour, how should our Southern Baptist Convention respond? What actions should our Southern Baptist Convention take?
In my final address to you as president, I want to challenge us to these five actions.
5 ACTIONS FOR SOUTHERN BAPTISTS
1. Now is the Time for Southern Baptists to Come Together
Southern Baptists are no longer in a battle for the Bible, but in a battle with one another. The very soul of our convention is at stake.
Almost two years ago when I became president, I was determined to do all I could to bring us together. I have given myself to this task, not just in words, but also in deed. I have gathered groups from all sizes of congregations, groups of church leaders and convention leaders, state leaders and national leaders, and members from different ethnicities and generations. Yet, we find ourselves in a continual struggle to come together in unity. Why?
Unquestionably, we are affected by the culture we live in today. Narcissism and independence infects us just like it does others and challenges our paradigm of working together. Transition within our national entities and state conventions is occurring, and adjusting to change can be uncomfortable for everyone.
During this "for such a time as this" moment, not one decision we make happens in isolation. You are not representing just yourself. We are family. We need to stop letting distractions drown out the voice of God to us so we can articulate the voice of God through us to America.
There is not one enemy in our culture that will destroy the Southern Baptist Convention; but the enemies from within of pride, egotism, and independence will. These turf shepherds build walls relationally and threaten our spirit of cooperation and our work together.
In this social media world, we need to cease writing or saying things that can be easily misunderstood. We need to understand that one day we will answer to God for every blog, article, or tweet we write, and every conversation we have with one another. Unity is work! Unity will not happen without intentionality.
If we are so passionate about reaching the world, we need to live out what Jesus prays for us in John 17:21, "May they all be one, as You, so the world may believe You sent Me." We need to love one another.
Now is the time for Southern Baptists to come together.
2. Now is the Time for Southern Baptists to Lead
My address to you last year was on this very subject: Now is the Time to Lead. I am more convinced this year than last year, America and this entire planet needs Southern Baptists to lead. We need to lead more than just in number of churches and members as the largest Protestant denomination in America, but we must lead with influence.
This begins by us understanding the game is out there in a world that is without Jesus Christ. The game is not inside of our churches and not inside of our Southern Baptists national entities and boards, state conventions, and associations. We are called together to reach the world for Christ.
We are not a convention of entities, boards, state conventions, and regional associations; we are a convention of churches. Churches, lead. Pastors, lead your churches. National entities, boards, and committees, state conventions, and associations: Your role is to assist our churches in their mission of reaching the world for Christ.
The churches do not serve these structures and systems, but these structures and systems and their long-term future in our convention will depend on one thing: Their effectiveness in serving the churches to fulfill their God-given mission of reaching the world for Christ.
Systems and structures do not create the work of God. Systems and structures flow from the work of God. This is why we must always seek the Lord and always be willing to conform who we are to what God is doing among us. Everyone has a place, so let's find our place and lead from there.
Now is the time for Southern Baptists to come together and for us to lead.
3. Now is the Time for Southern Baptists to Evangelize
We would do well to re-prioritize reaching our own village, town, region, or city for Jesus Christ. America is lost from the smallest town to the largest city. From Mississippi to Montana, from Maine to New Mexico and from Washington to Florida, America needs Jesus!
Pastors and churches do a better job talking about reaching that city out there in America one thousand miles away or that country on the other side of the world than we do about reaching the very town where we live. We need to recapture the vision of reaching our own town or city for Jesus Christ. This is where it begins in reaching the world for Christ.
This is why pastors and church leaders must adjust their thinking and prioritize evangelism in their church, both personal evangelism and church evangelism. We talk about the gospel more than we actually advance the gospel. Pastors, whatever you do, present the gospel through your preaching and call people to respond to Jesus Christ weekly.
What will it take for us to face this problem head-on, stop rationalizing about it, and take strategic actions to change it? After the first full year of the conservative resurgence in 1980, our churches baptized 134,530 more people than we did this past year. But should we really be surprised? Let's be honest with ourselves today. We have criticized evangelism right out of the Southern Baptist Convention. A culture of skepticism about evangelism has crept into our convention. Equipping our people to do evangelism has departed from our churches. Event evangelism is no longer being done because some know-it-all, want-to be prognosticator deemed it irrelevant. While theological debate is ascending and is applauded loudly in our convention, evangelistic fervor and fire is being extinguished and the masses are silent about it. If we just had one-fourth of the passion for evangelism that we have for the debate over American politics, SBC internal politics, theological discourse, blogging, social networking, and analyzing someone else's ministry when our own is falling apart, we could change the world for Jesus Christ. Our convention celebrates everything but the main thing and then we wonder what happened with the main thing… evangelism. Evangelism is dying in our churches. Evangelism is dying in our convention. Wake up! Sound the alarm! Southern Baptists talk about evangelism more than we doevangelism.
Dr. Ronnie Floyd is Senior Pastor of Cross Church and President of the Southern Baptist Convention. Follow him on Twitter
@ronniefloyd
.