Church Leaders Unite to Heal Nation's Racial Divide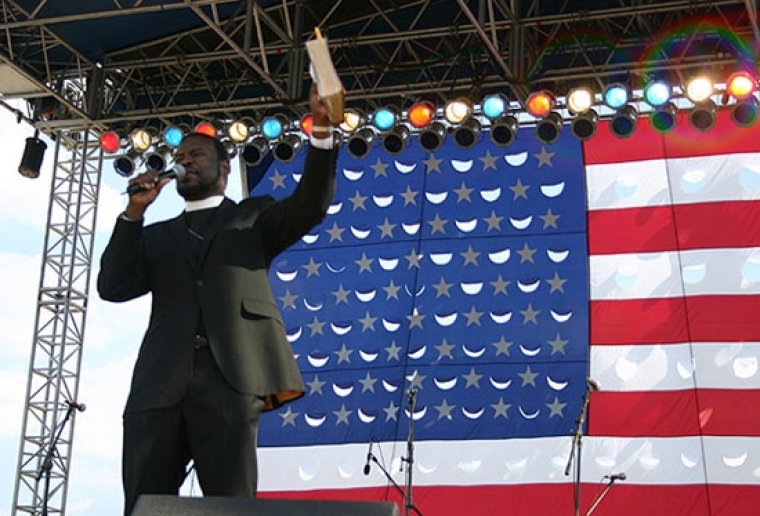 Jackson told CP that OBS, which was organized by the wife of wealthy financier T. Boone Pickens, Toni Brinker Pickens, seeks to allow people in the community to have their own stake in creating a sense of security and safety.
In The Reconciled Church's partnership with OBS, Jackson said the Reconciled Church's role is "to bring a set of unified players from the church community to the table." Jackson said the work of Pickens and OBS is dire because the first step toward economic stability is ensuring that businesses stick with inner-city communities instead of leaving them and causing more economic despair.
Jackson explained that since The Reconciled Church formed, it has come up with a book-worth of "best practices" that have worked for churches and have helped create better racial environments within their communities.
Jackson said a best practices book will be published later this year to help churches throughout the country piggyback off of what others are doing and get more involved in helping distressed communities.
"If [churches] can do what [churches] can do on the ground, and as a church challenges its members to use its connections to coordinate with community leaders, business and police, then all of a sudden, we can tackle the underlying problem that we have in these communities," Jackson explained. "I believe that we have a poverty, class and then a race problem. It is not just as simple as 'white people don't like black people.' I don't think it is just that simple. I think that when you have people that are trapped and angry for a whole bunch of different reasons, then they feel like life is hopeless."
Jackson explained that the most important aspects of the "seven bridges to peace" that churches can help with are education, criminal justice reform and economic development.
The bishop from Maryland added that if every church in troubled communities took it upon themselves to make sure children in their congregations know how to read and do math at grade level before they leave elementary school, it would have an dramatic effect on the community.
"Instead of the government with 'No Child Left Behind,' [the church] should have had one," Jackson said. "That is historic. Church Sunday schools were started because they wanted Christian kids to learn how to read and write and they would learn how to read and write the Bible as the basis of their education. That gives you a good overview of why we have to try to talk about bridges to peace."
Jackson further noted that if churches worked harder with individuals who are discharged from prison in order to get them acclimated to society, those people would have a better chance at living productive lives without ending up back in prison.
"With us, it is more like the church has got to step up, and T.D. Jakes is doing amazing work with regard [to] prisoner aftercare," Jackson said. "They have graduated over 10,000 guys where, when they come out of prison, they help you get a job and help you get counseling."
Jackson mentioned cities where nonprofit church organizations have started to make a huge impact within their communities. After the first Reconciled Church meeting, 103 pastors in Montgomery created a group called Youth City, a program aimed at keeping urban youth off the streets and in school. The group was awarded $1.8 million from the city, given a building by the city government and also given $100,000 in startup capital.
"Our coming together is more than just people talking their lips, as my dad used to say," Jackson insisted. "What we are finding is that if churches are willing to stand up and be counted and then create 501(c)(3) structures, there is an opportunity for us to really start making a difference."
"It is significant that Montgomery, Alabama, is giving $1.8 million worth of money because we feel like if we got to put that money in on the backside, after kids have been to prison, it's not going to work," Jackson added.
Jackson also mentioned ministry successes in Charlotte, North Carolina, where he claims that a riot was avoided after an unarmed black kid was shot by police because of ministry work, and in Dallas, where OBS is doing wonderful things to tie all aspects of the community together.
"We're going to have to recognize that these tensions mounted up over a period of time. Therefore, they are not going to subside in 15 minutes or 15 weeks, but they will subside, especially as churches partner," Jackson asserted. "We have had three major Reconciled Church meetings and we feel like we are going to have to go small in order to go big, go local to have international impact. We feel like what [Operation Blue Shield] is doing is bringing business leaders to the table, and that is a dimension that is going to add a lot."