Roswell UFO, Chase Brandon CIA Veteran Admits to Aliens? (VIDEO)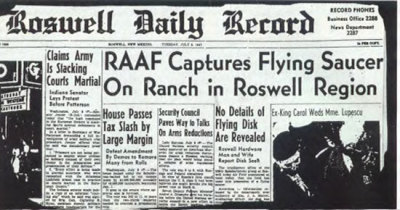 65 years after a supposed UFO crash made a previously small town famous, former CIA agent Chase Brandon has revealed that everything that was speculated is true and aliens really do exist.
Roswell is a small town in New Mexico that often finds itself off the grid. With a population of just under 50,000 people as of 2010, it was rarely spoken of back in 1947. That was however, before the crash that changed the lives of many locals. On July 8, 1947 a crash occurred; the aircraft was initially identified as a flying saucer but overnight U.S. military officials would change their story and claim less than 24 hours later that the object in possession was only a weather balloon.
That story didn't hold up for many, especially for some of the first civilian witnesses who were certain of what they saw. As a result, a number of people have dedicated their lives to uncovering the clues and secrets behind what would later be considered a massive government cover-up.
Chase Brandon, a former veteran of the CIA who worked with the government for 35 years, was on the other side of things when the events first unfolded. After 65 long years, Brandon has come forward and stated that there was no mistake about the initial claims of the aircraft discovery.
"It was not a damn weather balloon -- it was what it was billed when people first reported it," Brandon told the Huffington Post. "It was a craft that clearly did not come from this planet, it crashed and I don't doubt for a second that the use of the word 'remains' and 'cadavers' was exactly what people were talking about."
What were people talking about on that fateful day? The existence of extraterrestrial beings is more likely, or rather aliens, which is what Roswell has become famous for.
Brandon also revealed that later on in his career he would discover a box in a close of area that revealed the true events of what happened that summer night in July many years ago.
"It was a vaulted area and not everybody could get in it," Brandon said of his discovery. "One day, I was looking around in there and reading some of the titles that were mostly hand-scribbled summations of what was in the boxes. And there was one box that really caught my eye. It had one word on it: Roswell."
READ: ROSWELL UFO INCIDENT - QUICK FACTS, TIMELINE, DETAILS
Although Brandon wouldn't reveal the contents of the box, he went as far as to say that they were enough to make him a believer of what he thought he already knew.
"I took the box down, lifted the lid up, rummaged around inside it, put the box back on the shelf and said, 'My god, it really happened!'"
Roswell Crash Footage