Roy Moore Avoids Spotlight, Skips Church, Two Days Before Election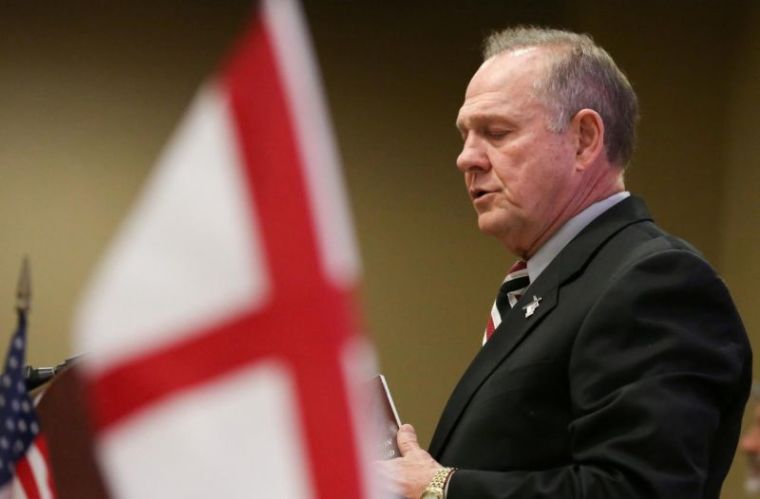 Republican Senate candidate Judge Roy Moore appeared to avoid the limelight and skipped church service two days before Alabama's special election to fill the Senate seat vacated by Attorney General Jeff Sessions. He gave just one media interview, once again denying the allegations of sexual misconduct against him.
"Roy Moore, still in hiding, didn't attend his own church services," wrote Kira Lerner, political reporter at Think Progress, on Twitter.
"Out of respect for people who want to worship without reporters hanging over their heads gawking, no, he did not attend church this morning," Moore adviser Brett Doster told BuzzFeed News.
Some have accused Moore of avoiding facing tough questions about the allegations days before the election.
Doug Jones, Moore's rival and the Democratic candidate, on the other hand,  attended the 8:30 a.m. morning service at Sixth Avenue Baptist Church in west Birmingham to start a busy day of campaigning, according to AL.com.
Last month, a woman named Leigh Corfman accused Moore of initiating sexual encounters with her when she was 14. Several other women made similar accusations. Moore has denied the allegations.
Three women alleged Moore attempted to date them when they were between the ages of 16 and 18 and he was in his early 30s, though they clarified that he did not force them into any sort of sexual contact. However, an Alabama resident, Beverly Young Nelson, alleged that Moore groped her and tried to force her to perform oral sex when she was just 16.
Many GOP senators and some Christian leaders called on Moore to drop out.
In his latest interview with "The Voice of Alabama Politics," Moore denied he knew the women who have accused him of sexual assault or molestation.
"I did not know them. I had no encounter with them. I never molested anyone," Moore said, according to ABC News. "These allegations are completely false. I did not date underaged women, I did not molest anyone. So these allegations are false."
He blamed the allegations on the "scheme of political parties today." He said the women know he has "stood for moral values and so they're attacking me in that area."
He added, "It's done for political purposes."
Moore earlier argued that the allegations are an attempt to silence Christian conservatives like himself. "The Obama-Clinton machine's liberal media lapdogs just launched the most vicious and nasty round of attacks against me I've ever faced! We are are in the midst of a spiritual battle with those who want to silence our message," Moore said in a statement.
The conservative publication National Review earlier called for Moore to drop out. "There is almost certainly no way to independently confirm them, and Moore denies them strenuously. But the allegations are credible. There are four women who spoke on the record," the editors wrote. "Roy Moore is not a worthy standard-bearer for the Republican party, and his vulnerabilities are now endangering what should be a completely safe Senate seat."