Russell Wilson Defends Faith After Calling 50 Shades 'Great' Movie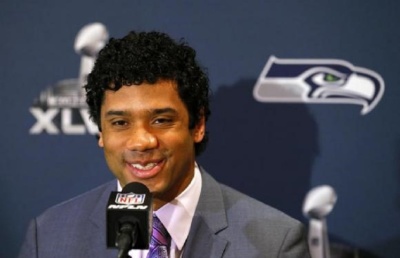 Russell Wilson recently defended his Christian faith after receiving some backlash for calling the controversial movie "50 Shades Of Grey" great.
Wilson, the 26-year-old Christian quarterback for the Seattle Seahawks, took to Twitter to let his over one million followers know that he enjoyed the new film craze taking over movie theaters.
"Thanks for the early showing of #50ShadesOfGrey late last night.. #EmeraldCity Great movie," the NFL star wrote.
The movie centers around a sadomasochistic relationship between a young college student and a business mogul. However some were surprised and critical of Wilson's decision to watch the movie that he called "great" and let him know by commenting on social media.
However, Wilson stood his ground and defended his faith on social media.
"Saw a movie filmed in the town I call home," Wilson tweeted. "Provocative/disturbing no doubt but that does not make me less Faithful. Have a blessed day!"
The NFL player has never been very vocal about his faith in the past. Wilson previously said he wanted his legacy on the football field to center around him being considered a winner, but he also spoke about another legacy that he wanted to leave behind off of the field.
"In terms of my legacy off the field, I want to be a Christian man that helps lead and helps change lives and helps serve other people. It's not about me, you know," Wilson told reporters on the Super Bowl Media Day that took place Jan 27. "It's not about me and it's about just helping other people. So that's kind of where I keep my focus."
The QB made it clear just how important his faith was in his life.
"In terms of my faith, my faith is everything – God comes first, family and friends come second, and football comes third," Wilson told reporters at the the Super Bowl media day. "I think when you keep it in that order, great things happen to you. You don't stress out about much."