'Saeed Is Free:' Naghmeh Abedini Thanks Obama, Franklin Graham, Millions of Petitioners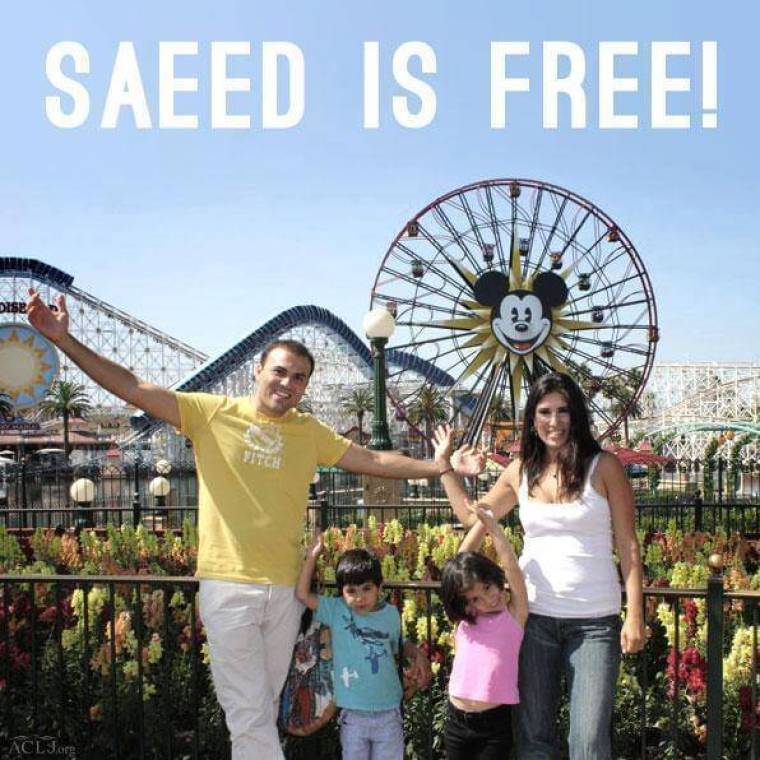 Naghmeh Abedini, the wife of released Pastor Saeed Abedini, has thanked President Barack Obama, the Rev. Franklin Graham, the various groups that campaigned for her husband's release, and the millions of people around the world who signed petitions for the cause.
"I wanted to say thank you to all of you for having prayed and have wept with us, have signed petitions and have called your government officials. Thank you for having stood with our family during this difficult journey," Abedini wrote on Facebook late on Sunday, just hours after her husband was finally released from Iranian prison.
Earlier on Sunday she revealed that Obama had personally called her.
"President Obama called moments ago and congratulated our family on Saeed's release! We had met with President Obama last year and he had promised that getting Saeed out of Iran was a high priority for him," the Boise mother of two wrote.
"I could see his love and compassion as he spoke last year and again today. I am thankful for our president and all of the hard work by the White House and the State Department in making this happen," she added.
Abedini also thanked Graham, who has spoken out for the pastor's release on numerous occasions, calling on the U.S. government to do everything it can to bring him home.
"I am also very thankful for Rev. Franklin Graham. He stood by me and my family and saw us through this ordeal. He is a great spiritual example. May God's anointing be continually on him and his family. God has blessed me not only with a spiritual mentor, but a friend," she wrote.
Abedini noted that her legal team at the American Center for Law and Justice worked tirelessly in organizing petitions and continuously campaigning for her husband.
"I want to thank the American Center for Law and Justice, Jay Sekulow, Jordan Sekulow and the entire ACLJ team (many of whom worked behind the scenes and whose names might never be known, but I know who you are and pray for you and appreciate all you do) for being there for me and my family every moment of every day from the first moments of Saeed's arrest until now," she wrote.
"They did not stop and they did not give up until Saeed was brought home safely. They worked tirelessly. I can not express my gratitude enough. They are a gift from God in my life," she added.
Pastor Abedini, who spent over three years in prison for his Christian faith, was released alongside three other Americans by the Iranian government as part of a reported prisoner exchange.
Other American church leaders, such as Southern California Pastor Greg Laurie, also shared news of the pastor's release, and suggested that the release occurred in God's perfecting timing.
"Christians around the world have been praying faithfully for the release of Pastor Saeed Abedini," Laurie told The Christian Post late Saturday. "It did not happen as quickly as we had hoped, but it happened in God's perfect timing. Now we want to remember to continue to pray for Saeed, his wife, Naghmeh, and their children as they are finally reunited, as well as the rest of his family."
In her Facebook messages, Abedini thanked a number of other people who have stood by her over the years, including the "countless pastors and friends that I have met over the years of travels who have been the hands and feet of Jesus to me."
"Thank you Jesus for being with us during the difficulties of life and bringing people who help us bear them. One battle has been won of Saeed's freedom. There are many more difficult battles and a hard road ahead," she wrote. "Our family still needs your prayers."