Samsung Galaxy Note 2 to Feature Narrower Design
The upcoming Samsung Galaxy Note 2 will feature a narrower design, according to a recent report from YouMobile.org.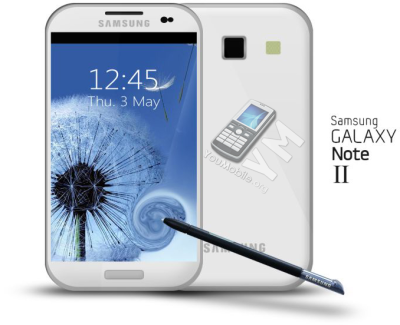 The device is rumored to have a 5.5-inch Super AMOLED HD display that YouMobile says will be much narrower than the original Note, making the handset more compact and similar to the Galaxy S3 that has a 4.8-inch touchscreen.
Although many tech sites have reported on the Galaxy Note 2, Samsung has been pretty quiet about the existence of the device. The company finally broke its silence on Twitter last week confirming the phone-tablet hybrid's existence.
"Which one of these are you excited about: #GalaxyBeam #GalaxyTab2 #GalaxyNote2 #Poll," tweeted Samsung Arabia.
This proves that the next Galaxy Note is in the works. The Samsung Galaxy Note successor could be launching as early as next year.
YouMobile also recently posted a Galaxy Note 2 concept and feels that releasing a new version of the Note would greatly benefit Samsung since the company had so much success with the first version that sold over 7 million units worldwide.
The concept picture for the device looks almost identical to the Samsung Galaxy S3. This also matches up to the original Galaxy Note, since it closely resembled the S2 when it was launched.
The site claims to be basing it on the "latest reports" regarding the Note successor.
It also listed specifications for the smartphone-tablet hybrid that includes a Super AMOLED 5.5-inch display with WSXGA+ 1680 x 1050 and 360ppi pixel density.
Other specs for the Galaxy Note 2 concept include a dual-core Exynos 5250 processor and 1.5GB of RAM. Its touchscreen will feature a PenTile Matrix.
The site also stated that the Galaxy Note will be announced in October and should hit the market before the holiday shopping season begins.
Samsung Galaxy Note Hands-on Review by GNLI